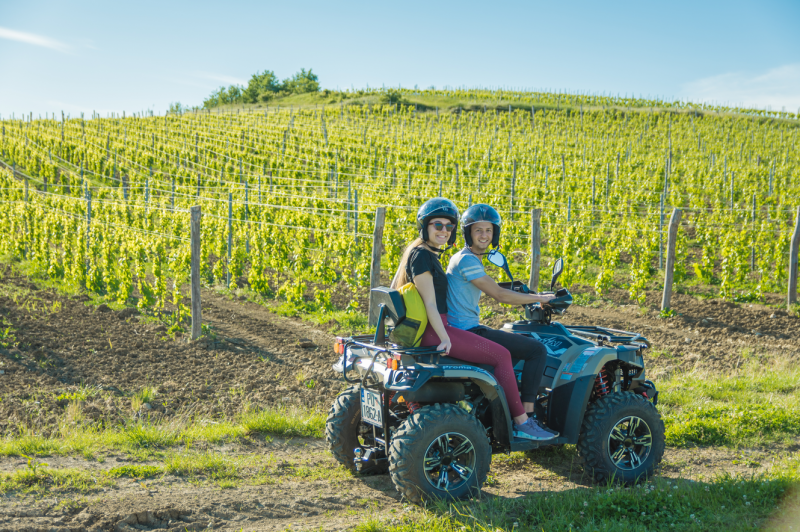 Photo gallery
Istra Grand Tour organize quad tours and team buildings in Istria County with a base in Ritošin Brig, Vižinada. The very idea of the Istria Grand Tour was created by a young lover of sports, adventure, adrenaline, and the desire to combine it with the beauty and richness of culture and gastronomy of his region which resulted in offering guided quad tours.
To get to know Istria differently, Istra Grand Tour have organized attractive quad ATV tours for you. Each tour is enriched with at least one cultural and historical landmark and guided by a professional ATV tour guide. Through adrenaline off-road rides, with new and quality ATV Linhai 500 vehicles, you would discover the untouched landscape of the Istrian peninsula. Guided by the desire to provide a complete experience in cooperation with local food and wine producers, Istra Grand Tour prepared a rich program that offers traditional Istrian cuisine with local dishes and drinks. By choosing one of the ATV Quad tours, you will have an unforgettable experience.
Istra Grand Tour can offer you two or four hours quad tours. The Regular tour is a 2-hour tour and is a great choice for a short adrenaline ride through central Istria. A Massive tour is a 4-hour quad tour, which in addition to an unforgettable adrenaline ride on local trails, a ride through the vineyards also offers the possibility of lunch in local agritourism. Finally, the Parenzana Magic tour is a 4-hour quad tour that passes through the beautiful historic Parenzana railway and offers you stunning views of Istrian towns such as Motovun, Grožnjan, and others. If you want an unforgettable adventure in Istria and get to know it from a different perspective, contact Istra Grand Tour Team with confidence!
Contacts:
Recommend it to your friends through these services.. ...