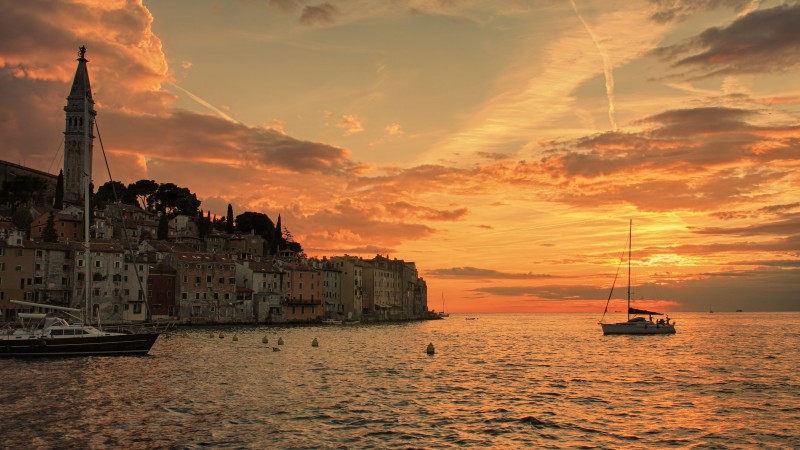 Photo gallery
On the magnificent coast of Istria (Croatia), right below the Lim Fjord, is the most romantic place in the Mediterranean! The town of Rovinj is the right destination for all of you seeking a sentimental atmosphere of the times that have forever gone by. In the Mediterranean, you can find it here, in the town that has begun its romantic life on an island, its restricted area resulting in crowded houses, narrow streets and small squares, still untouched by modern urbanism. On the seaside, the town is protected by a high rocky shore and house walls built on cliffs, while the mainland side is protected by solid walls. The town is dominated by the baroque St. Euphemia's Church, its 60-meter tower providing a view of grey and red rooftops and chimneys, streets and squares, the port and pier with ships and boats, and the marina harboring yachts.
This unique old town core, the 67-kilometer shoreline, 2,289 ha of protected green surfaces and improved park forests, 16 islands, islets and reefs, make this town unique. Built upon a rich fishermen's tradition, it has become distinctive for its unique boat called batana and its songs bitinada. Its beauty was particularly appreciated by artists who have painted the most beautiful motifs here and exhibited them on Grisia, the street of artists.
This is place providing endless options – walks in wonderful nature, sport and recreation activities, sailing, diving, climbing, biking, discovering hidden beauties, cultural antiques, archeological sites and culinary specialties, all combined with accommodation in high-quality hotels, tourist resorts and camps providing numerous possibilities for a pleasant holiday, wellness delights, business conferences and sporting activities.
Romantic and mysterious, yet full of options for an unforgettable time, Rovinj has become and will remain a town you want to revisit.
Recommend it to your friends through these services.. ...