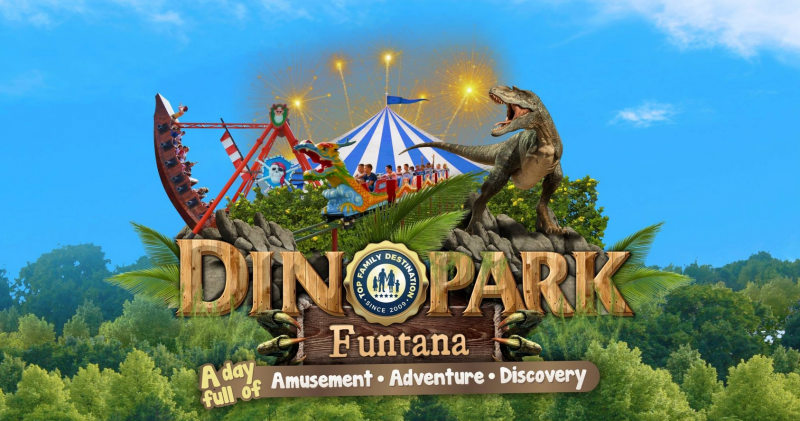 Photo gallery
Not far from Poreč, in a natural area with an imposing rocky canyon and lush forests, there is an amusement park that stands out for its uniqueness and exceptional character. On 85,000 square meters in the shady karst forest you can expect racy rides, animated dinosaurs, sensational live shows and varied catering establishments. Opened in 2009, Dinopark Funtana has been continually expanded to provide numerous activities for a full-day family excursion.
One highlight is the "DINO DOME", an air-conditioned arena with 1,000 seats, where daily live shows and various animation programs take place. Fun and thrill is guaranteed on our attractive family rides, such as the swing boat "TORTUGA PIRATES" or the rides "DRAGON COASTER", "TWISTER FLY", "SAFARI BUS" or "FLINTSTONE RIDE", as they are suitable for all ages. Archery, pony express, monster hunting, trampolines, reptile expo, dinosaur riding, mini zoo, as well as various playgrounds and rides complete the offer. Enter the 1,5 km loop road through "GONDWANA" and "PANGEA" not without awe, because it will be an overwhelming experience: 80 original prehistoric giants who have dominated the earth for millions of years are expressively integrated into the prehistoric landscape. Authentic, but always surprising, as some of the copies "awake to life" at the push of a button. Thus, our exhibits not only fascinate children, but also delight young and old alike with their realistic and imposing appearance. A workshop for digging dinosaur bones in "SKELETON VALLEY", as well as the "SEA MONSTER" area, where impressive prehistoric marine life can be seen, complete the thematic area.
Gastronomy: Parents can relax in the "JUNGLE BAR" or the "TUTTI FRUTTI" in the shady forest, while the children enjoy the attractions without their parents losing sight of them. Inside the "DINO DOME" are the "MC DINOS" fast food restaurant, the "PIZZA CUT" bistro, the souvenir shop and an indoor playground. On the sunny outdoor terrace, we offer grill specialties in the "JURASSIC BBQ" and various delicacies in the "BAMBOO CAFE".
Info:
Istarska 16, Funtana
Tel. +385/52/445-327
info@dinopark.hr
www.dinopark.hr
Recommend it to your friends through these services.. ...