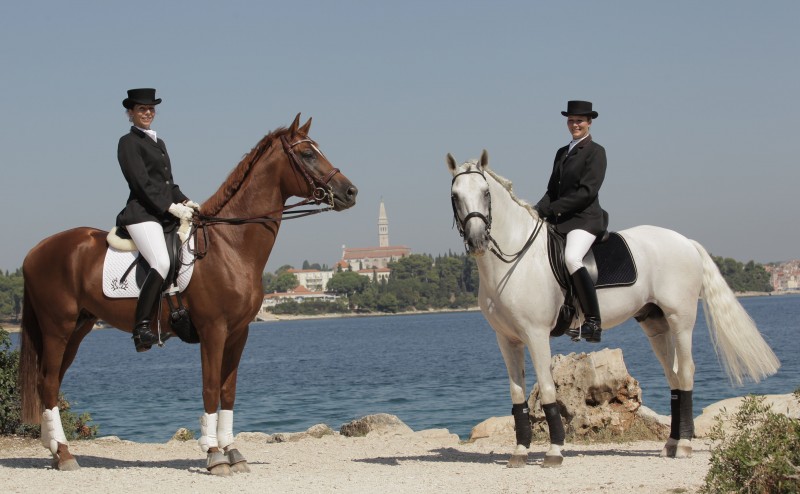 Photo gallery
Nature and adventure lovers can enjoy the adventure of horse riding and discover the beauty of Rovinj and its natural surroundings. Regardless of whether you're a beginner or an experienced rider, equestrian centres and ranches with stallions and noble animals can offer and organize a variety of itineraries and trekking routes through which you can enjoy natural beauties and historical and cultural sights of Istria that will constantly open up before your eyes.
Riding schools, trips, other outdoor activities and exploring and enjoying the culinary peculiarities of this region are also an essential part of this unique adventure.
Farm Haber
The Sv. Eufemija riding club, with the collaboration of the Haber farm, is nestled in the middle of the woods sorrounding the city of Rovinj. The club offers lessons of dressage or show jumping for beginners and more experience riders. Additionally it organizes trekking tours in the Istrian countryside, in the middle of wineyards, olive groves or even on the seaside. A part from this disciplines, the club organizes hippotheraphy or equine assisted theraphy, for disabled people, children with special needs or just people in need of physical rehabilitation. The Haber farm has been breeding Austrian trakehner horses from 1983. Today another horse breed can be found on this farm, Spanish PRE Pura Razza Española horses from which the famous croatian Lipizaner breed derives. Today this farm has became a small paradise for other typical Croatian breeds like the istrian donkey, the istrian goat, the istrian Boškarin cattle, the Buša cattle, the Posavec horse and the tornjak dog.
Recommend it to your friends through these services.. ...