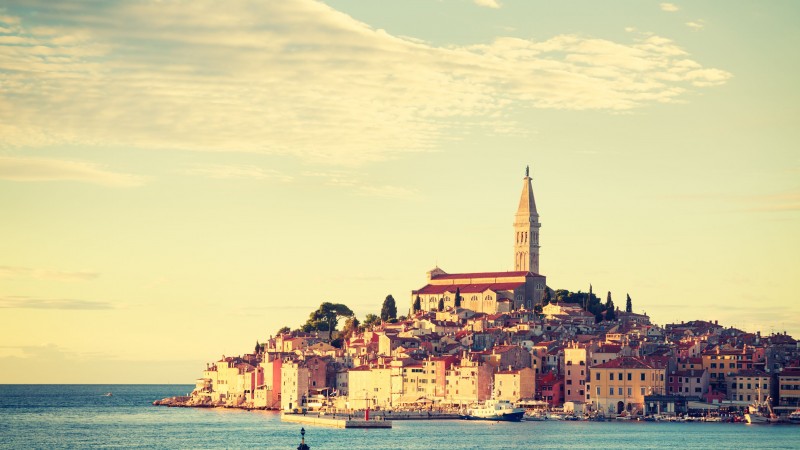 Photo gallery
Pleasant autumn temperatures are perfect for taking an activity holiday and spend time cycling, walking in nature, rock-climbing, etc. Fans of activity holidays will surely not be disappointed with the Zlatni rt forest park, situated near the Rovinj city centre. For all interested guests and visitors, the Tourist Board organizes a free bike tour around Rovinj as part of the project Feel the breeze of Rovinj.
Moreover, thanks to its attractive sports facilities (the football stadium, basketball and handball courts, outdoor and indoor tennis courts ...), perfect place for amateur and professional athletes to train. Along the newly renovated route of the bicycle-pedestrian path Štrika-Ferata, which stretches along the former railway branch Kanfanar - Rovinj, you will enjoy indescribable natural landscapes.
The autumn edition of the On the paths of Rovinj delicacies event gives visitors to Rovinj the opportunity to enjoy specially prepared fish or meat dishes at promotional prices in restaurants across the town. The autumn edition of the Weekend bike & gourmet tour event is intended for lovers of cycling, but also for exploring natural beauty and tasting Istrian gourmet delicacies.
There is also the possibility to go on excursions to various sites of interest, such as the small medieval towns in central Istria, the amphitheatre in Pula, the Euphrasian Basilica in Poreč, the Baredine cave and Brijuni National Park.
First-class accommodation facilities which include multi-purpose meeting and conference halls make Rovinj an ideal destination for business meetings and congresses.
Those looking for a carefully designed and comprehensively equipped place offering relaxing body and beauty treatments throughout the year will surely enjoy the wellness centres in Rovinj. Rovinj wellness centres offer a selection of treatments based on Mediterranean herbs and herbal essences.
If you like to enjoy the early autumn days under a mild sun, rent a sailboat or motor boat and set off on a sea adventure through the Rovinj archipelago.
A walk along the streets of Rovinj's historical centre is a true artistic experience. Visitors to Rovinj are enthralled by the cultural and historical monuments, the church of St. Euphemia, galleries and studios displaying artworks and souvenirs.
A special treat is a visit to the Batana House Eco Museum dedicated to a wooden flatboat called batana. Due to its activity in preserving the flatboat-building tradition, the museum was included in the UNESCO's Register of the world's best practices for the safeguarding of intangible cultural heritage. The "must see" list of things to do in Rovinj includes discovering Rovinj's rich history, exploring the old town and visiting the town's cultural and historical monuments. Spring is the perfect time for taking a walk along the Monkodonja and Mušego archaeological sites, as well as visiting the Palud special ornithological reserve, situated on the edge of Rovinj.
Recommend it to your friends through these services.. ...