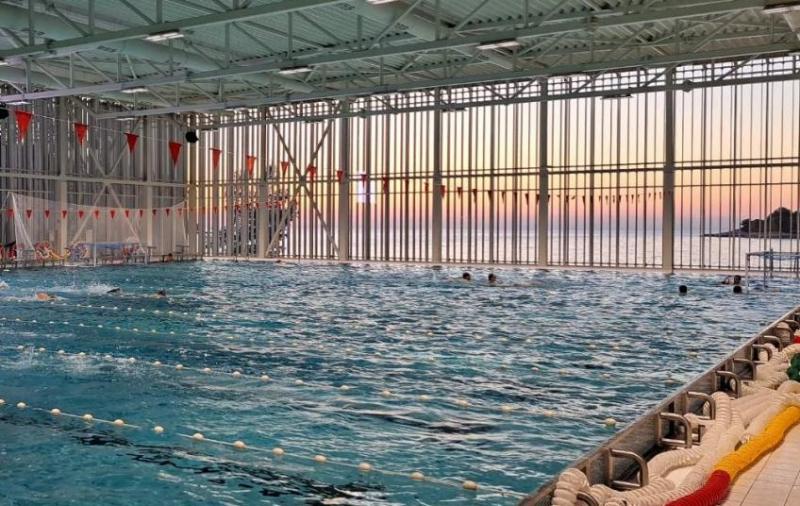 Photo gallery
The public swimming pool with fresh water, measuring 33.33 x 25.0 m, is made of stainless steel. The use of stainless steel in the design and construction of swimming pools has many advantages over other materials that have been used traditionally. Its use requires much less chemicals to maintain the hygiene and safety standards, and it has a long service life.
The swimming pool has a movable floor with a width of 3 lanes and a length of 25.0 m, which can be lowered to the maximum depth of the pool at 2.0 m, and lifted to the zero point. The movable floor increases the flexibility and functionality of the swimming pool for various purposes, as it allows for several activities to take place in a single swimming pool tank at the same time and at different depths.
In addition, the swimming pool is equipped with a leading safety system for detection and protection of its users against drowning, AngelEye View. This is an innovative software technology where patented underwater cameras detect all movement of users and send notifications to security personnel in the event of an accident.
The Rovinj-Rovigno municipal swimming pool is open to the public according to the following schedule:
- in the morning from Monday to Friday > 8:30 - 13:00,
- in the afternoon on Mondays, Tuesdays and Thursdays > 20:30 – 22:00,
- on Saturdays > 12:00 – 21:00.
Price list:
- One-time ticket for 90 minutes – EUR 5.00
- Children up to 7 years accompanied by parents - Free of charge
- Monthly ticket – EUR 40.00
- Annual ticket (the swimming pool is closed during the summer months): January-June, October-December – 200.00 EUR
For more information, please call 052 205894 or visit www.valbrunasport.hr.
CITY SWIMMING POOL ROVINJ-ROVIGNO
Luigi Monti street 2, Rovinj-Rovigno
Recommend it to your friends through these services.. ...