Third city tour - - "Feel the breeze of Rovinj"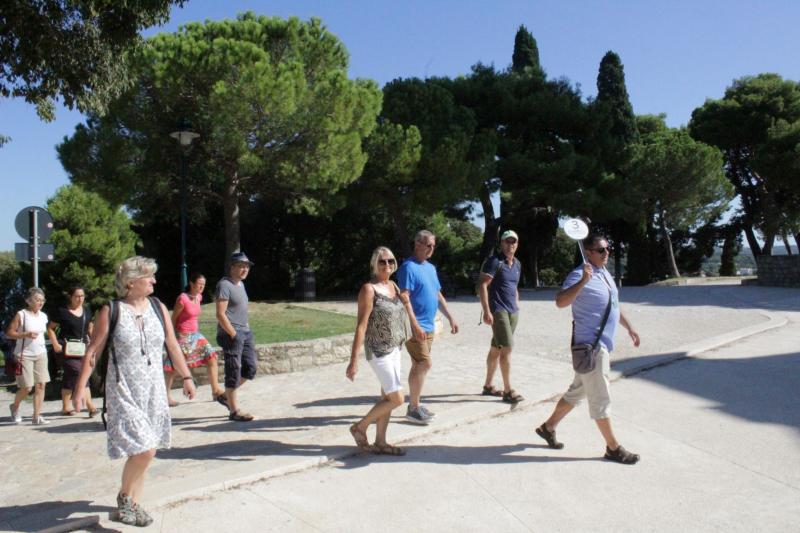 Photo gallery
25.08.2020

On Tuesday, August 25, 2020, the third tour of the town was held within the project "Feel the breeze of Rovinj". The tour attracted more than 50 people who had the opportunity to get acquainted with the cultural and historical sights of the old town of Rovinj and walk the town streets Grisia, Bregovita, Švalba, Zdenac, Silvano Chiurco, Sveti Križ, Šetalište braće Gnot, Casale, Trg maršala Tita with a guide in Croatian, Italian, English or German. In addition to sightseeing, the participants had the opportunity to visit the Church of St. Euphemia and learn about the legend of St. Euphemia, while in the Rovinj Heritage Museum they toured the museum collections such as the work of Alexander Kircher and the exhibition 'San o Egiptu' (The Dream of Egypt) and 'Otisci utisaka' (Imprints of Impressions). In the tasting room of the Agrorovinj Association, they had the opportunity to taste the famous olive oils, wines and cheese of Rovinj producers and attend a presentation of making Istrian soup. On behalf of the Association, the hosts were the President Kristian Damijanić and a member of the Association Vesna Marangon.
Guided tours will continue to take place each Tuesday, starting at 9:30 a.m., until October 6th, and are free for all. For more information and to book a tour (registration is mandatory) please send an email to info@rovinj-tourism.hr, or use the form at the following website: https://www.rovinj-tourism.com/en/discover/discover-and-enjoy/city-guided-tours/1098.
Recommend it to your friends through these services.. ...