Feel the breeze of Rovinj - guided tours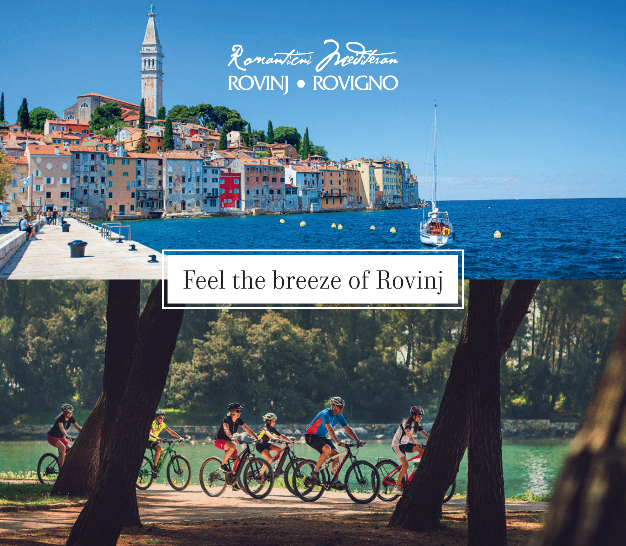 Photo gallery
14.7.2021

In order to promote our destination and create new value through new activities offered to our guests, the Tourist Board of Rovinj – Rovigno this year also continues offering free guided walking and bike tours as part of the "Feel the breeze of Rovinj" program.
Guided tours of Rovinj in four languages will take place every Tuesday from 20 July until mid-October, from 10 a.m. until 12 noon. The tours will include sightseeing of the town's historic and cultural attractions, the Church of St. Euphemia and the newly refurbished House of Batana eco-museum. At the eco-museum visitors will have the opportunity to taste local seafood specialties and Rovinj wines and enjoy local music.
Join our bike tours and we will take you through the most beautiful scenery, scenic natural attractions and historic places on the Rovinj coast and inland area, from Lone Bay across the forest park Zlatni rt – Punta Corrente all the way to Veštar, Cisterna, Palud and the Monkodonja and Mušego archaeological sites. Bike tours will take place every Sunday from 25 July until mid-October from 9:30 until 12 noon. The tours will be organized with all recommended epidemiological measures in place and participants will be grouped accordingly. Accommodation providers at the destination will be notified of these free activities and notify their guests and to promote these free guided tours we have made a promotional flyer for distribution available at tourism properties and at the Info Point of the Tourist Board. The service will be promoted through social networks, in the local media and via the Tourist Board's website. Please reserve your spot by email at info@rovinj-tourism.hr or at the office of the Tourist Board.
Download the flyer: Feel the breeze of Rovinj
Recommend it to your friends through these services.. ...