Beautiful political science student Lennarta Spajić elected the new Queen of Croatia 2021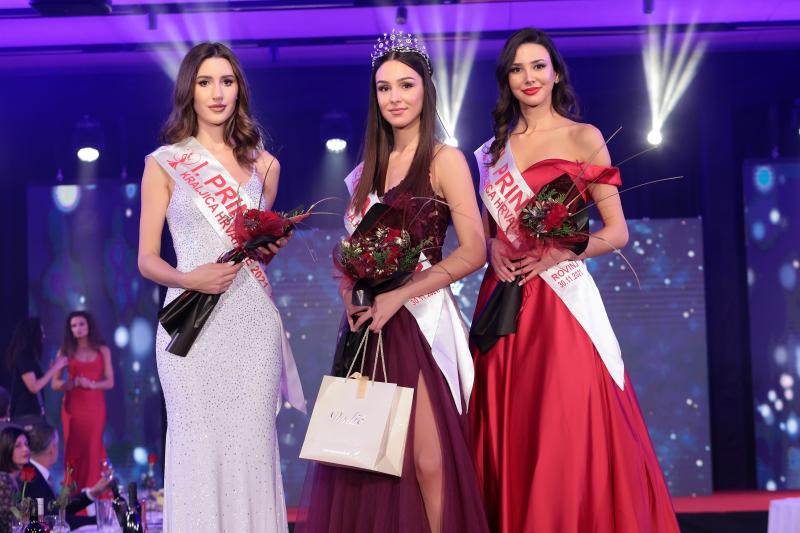 Photo gallery
01.12.2021

On Tuesday, Rovinj's Hotel Lone hosted the beauty pageant where the Queen of Croatia 2021 was elected for the upcoming Queen of the World pageant. The young, beautiful and smart Lennarta Spajić, a future political scientist from Zagreb, delighted the jury with her charm and appearance, runway walk, but also with her smart answer to the question, so she won the title of Queen of Croatia 2021. The title of the First Princess was awarded to Lucija Bagić from Zagreb, and the Second Princess is Gabriela Anđela Japundžić from Pula. Ines Štengl took the title of the Queen of Personality, Leona Ostojić was elected the Queen of Photogenic, while Marija Magdalena Buntak was proclaimed the Queen of Elegance, and the Queen of Media is the blonde Ania Biritteri.
The jury had a difficult task. Thirteen of them had to decide who will become the new Queen of Croatia: Veljko Kajtazi – Member of Parliament and Vice President of the Parliamentary Committee for Sports and Youth, Irena Jakičić – President of CroStars model & talent club, Juraj Mihaljević – the owner of Ilok Cellars, Natalija Brkić – President of the Directorate of the Queen of Croatia pageant, prof. Krešimir Rotim, MD – the owner of the Neurospine Special Hospital, President of the Jury, prof. Daniela Gračan, Ph.D. – the only Croatian woman to win the title of the Queen of the World in 1989, Josip Grubeša – Minister of Justice of Bosnia and Herzegovina, Paško Dodić – the owner of Zlatarnica Dodić, Iva Damuggia – delegate of the Director of the Rovinj Tourist Board Mrs. Odete Sapač, Primarius Zoran Veir, MD – specialist surgeon, subspec. plastic, reconstructive and aesthetic surgery, Igor Franković – owner and director of Rovinj FM radio, Zvonimir Popović – son of Zvonko Popović, owner of Kanaan and Andrej Schilling – the owner of Aqavel Skin Care brand.
The beautiful Doris Pinčić and Mario Sedmak were hosting the ceremony, and all present were entertained by the group Colonia and Boris Novković and the dance group Megablast.
Recommend it to your friends through these services.. ...