Rovinj's Christmas magic brings a cheerful holiday atmosphere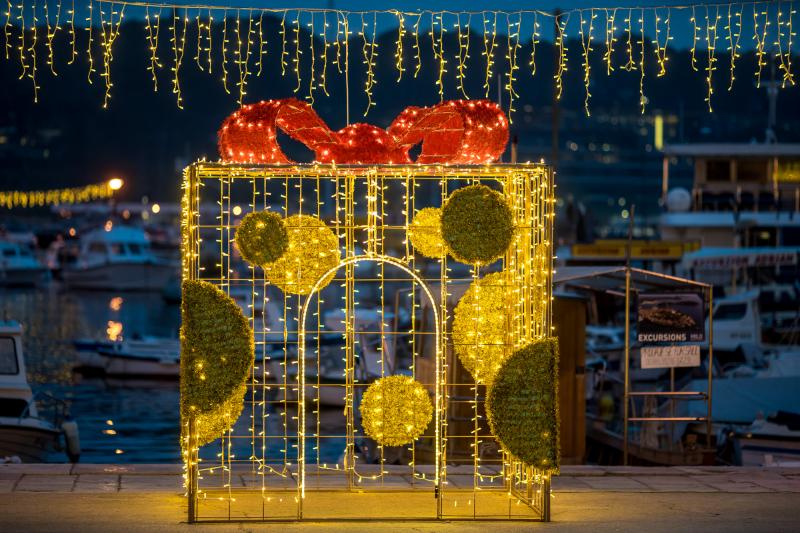 Photo gallery
09.12.2021

From December 15 to January 9, as part of this year's Christmas magic, a special Christmas and New Year's program will take place at various locations.
Every day during the afternoon and evening hours tourists and local guests will be able to enjoy live music, and from 11:00 to 23:00 music for all ages will be played. The rich program will feature Rovinj performers including Duo Evolution, 2 Sweet to Chic, On Line duo, DJ Roza + TheLink20, MusicLab + Dj Fusion, Klapa Valdibora, Smooth Jazz Quartet, Il "Gato" e le volpi, DJ So Chic + Davor Terzić Trio, DJ Nino Katina + Kapitališti, Brass Band and Majorettes, Music (K)nights, Banda Latina, Radna akcija, Master band, Jet Moon, DJ Fusion + Party band, Le Monde, DJ Nino Katina + Gig savers, Syncopaths Jazz quartet, Jet Moon, Dos Caramai and Black Jack, Viecia Rouigno, DJ Ello + Le Monde, DJ Roza + Party band and Duo Kalimero.
In addition to a rich program of film screenings, opera and ballet performances, the Public Open University is also preparing a holiday edition of a natural cosmetics workshop where participants will learn how to make luxurious body and face oils, lip glosses, scented body gels and velvety butters. The workshop will be held on Saturday, December 11 from 10:00 to 12:30 at the Multimedia Centre.
A small antiques fair will be organized next to the Gandusio Theatre on Valdibora Square on Thursdays and Fridays before Christmas and New Year, that is on December 23 and 24 from 8:00 to 16:00, and on December 30 and 31 from 8:00 to 16:00. The fair's program will also include a presentation of some old crafts. This year Mr. Hari Vidović (Professor of Fine Arts) will lead a fresco-painting workshop for all ages on Thursday, December 23 and Thursday, December 30 from 10:00.
The Crafts Fair will take place on the waterfront from December 16 to 19, and the offer will, as every year, be enriched by Mercatino di Natale, a charity traditional fair of the local Italian community, which with its diverse and original offer attracts more and more visitors every year.
On Sunday, December 19, at 11:00, the Sports Association of the City of Rovinj-Rovigno and the Association Martišnjak z muštaci are organizing a humanitarian Christmas Rovinj Tour "Štrika Ferata" that involves running, walking and cycling. The start and finish line is on the main town square. All proceeds go to charity to help treat and rehabilitate Stjepan Budimir, our four-year-old fellow citizen who has been struggling with difficult diagnosis since birth.
A handful of activities will also be organized for the youngest, and on December 18 and 19 Santa Claus is coming to visit! On Saturday, December 18, and on Friday, December 31, the square will host an entertainment programme for children from 11:00 to 13:00, hosted by Kristijan Ugrina and Nives Giuricin.
The Antonio Gandusio Theatre will host the Puppet Theatre from Rijeka on December 13 and 14. The Christmas concert of the Music School is scheduled for December 15 at 18:00. On Sunday, December 19, the ballet "The Nutcracker" will be performed, and Tuesday, December 21, a play by the STEM wizard. On December 23 and 30, at 20:00, Simon Marlow will take the stage performing songs by Frank Sinatra.
Recommend it to your friends through these services.. ...