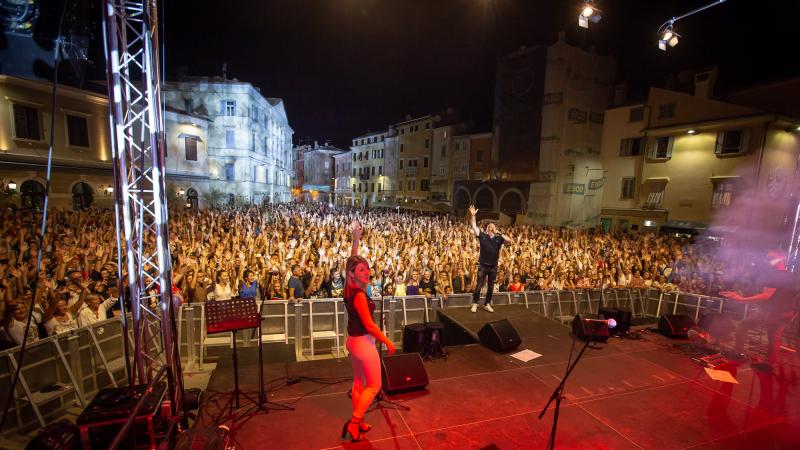 Photo gallery
2.9.2019

Another Rovinj Night, a traditional entertainment event with a long tradition that has been organized for over 55 years by the Town of Rovinj-Rovigno Tourist Board and sponsored by the Town of Rovinj-Rovigno, was held. This year, an attractive music program was prepared for the citizens of Rovinj and their guests, a kind of musical treat for music lovers on the town's promenade.
The Rovinj Night entertainment program started on Friday 30 August at 20:30 with a performance by the Brass Band and Rovinj Majorettes along the Rovinj waterfront. The entertaining program on the main town square started at 21:30 with the performance of Simon Marlow and The Rovinj Music Lab, followed by choreographies by Dance Lab Creations. Eleonora & Luka band performed from 21:30 in the Riviera Square.
The next day, 31 August (Saturday), the program continued at 19:30 with performances by the Roxanne Dance Group in the Carera Street, along the waterfront of Rovinj, to the plateau of St. Euphemia. The entertainment program started at 21:30 by the performance of the Party band in the main town square, while Ivana Galić band and Master band performed in the Riviera Square.
A traditional spectacular 15-minute fireworks show started at 23:00 hours. After the fireworks, the program continued with a concert by Toni Cetinski that lasted long into the night.
The entertaining program was accompanied by a rich gastronomic offer organized by Maistra, the Agrorovinj Association and the Batana House.
The event was sponsored by Coca Cola and Zagrebačka banka.
Recommend it to your friends through these services.. ...