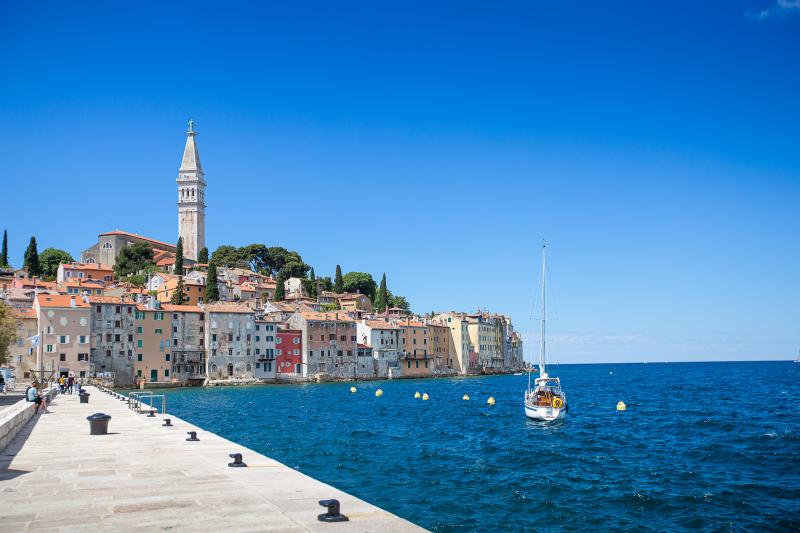 Photo gallery
Join us if you are curios to learn about the history of Rovinj from a local guide! Departure and meeting with the guide is planned in front of the Rovinj-Rovigno Tourist Board, Trg na mostu 2. The 2-hour tour includes a walk through the old town streets with a short break at the most interesting sites: Garibaldi Street, family shoe repair shop in Zdenac Street; Bregovita Street; lookout; Church of St. Euphemia with a church tour; Grisia Street; Porečka Street; Garzotto Street; Veli trg; Vrata pod zidom; town port, Marshal Tito Square, town clock, Eco-museum House of the batana. At the Eco-museum, guests will enjoy a traditional seafood dish and Rovinj wines while listening to traditional music.
Note: Guided tours are available in Croatian, Italian, English and German. When booking a tour, please specify the preferred language. Wearing face masks is mandatory for everybody when visiting the Church of St. Euphemia and the Eco-museum House of the batana.
Guidance is free of charge and take place every Tuesday, starting from 10.00 to 12.00. Registration is reqired.
Download flyer: Feel the breeze of Rovinj
If you want to join a guided tour or need information, contact us no later than one hour before the start of the tour at info@rovinj-tourism.hr.
Recommend it to your friends through these services.. ...