The 5th expert guided town tour took place as part of the 'Feel the breeze of Rovinj' project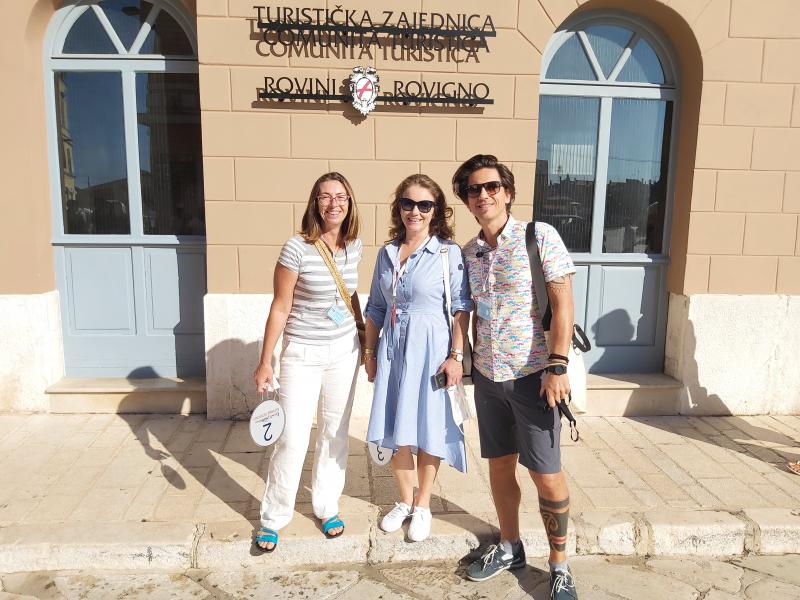 Photo gallery
08.09.2020

On Tuesday, 8 September, 2020 the fifth expert guided tour of Rovinj took place as part of the 'Feel the breeze of Rovinj' project. A group of about 50 visitors was taken around the town by an expert guide to see its historical sites and places of cultural significance and discover Rovinj's rich heritage. In addition to seeing the old parts of the town, visitors also took a tour of the stunning baroque Church of St. Euphemia and the Museum of the City of Rovinj-Rovigno.
After enjoying a stroll through the town's historic area, in a small square on Casale Street visitors were welcomed by the sounds of Rovinj bitinada – traditional folk songs performed by members of the Giusto Curto Culture and Art Association.
Later, the group was warmly welcomed at the Agrorovinj tasting room and served premium local wines and olive oils, delicious cheeses and Istrian Supa. Their hosts were Kristian Damijanić, president of the association, and Anton Fariš, one of its members.
Free guided tours of Rovinj will continue to take place every Tuesday at 9:30 until 6 October. To learn more and join the tour (registration is required) contact us by email at info@rovinj-tourism.hr and visit https://www.rovinj-tourism.com/hr/explore-discover/istrazite-i-dozivite/organizirani-obilasci-grada/1098.
Recommend it to your friends through these services.. ...