Reconstruction of the town clock's bronze bells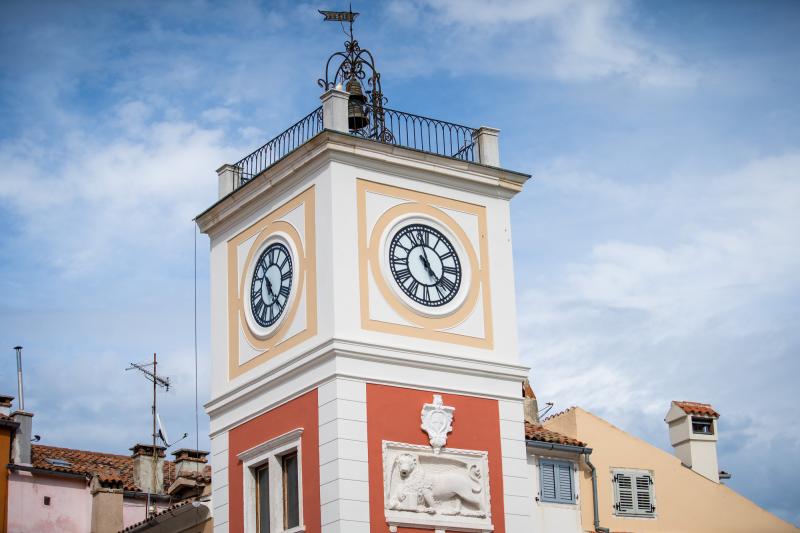 Photo gallery
06.04.2021

The reconstructed bronze bells were returned to the town clock last week and are again at the top of the tower on Rovinj's main square. The bells are placed on an iron structure with decorative volutes and with a flag on top. As a layer of active corrosion and various mechanical damages were noticed on the iron structure, and in some places the material was broken off, cleaning, crack repair, patination was performed, followed by protection of the outer surface of the bronze and painting, and the damaged pipe around the rod connecting the two bells was reconstructed.
The town clock building was built in the 12th century as part of the town walls, and has been an integral part of the tower since the 14th century. The tower has been extended several times, and it got its final look in the 19th century. Under the tower, there was a prison for minor crimes. The town clock tower, whose mechanism originates from the old town clock from the end of the 18th century, was reconstructed in 1907. On the upper bell there is an inscription in Italian "Destinata alla torre dell'Orologio, Rovigno 1922" saying that the bell is intended for the town clock tower in Rovinj, placed in 1922. On the lower bell there is the inscription "Destinata alla torre dell'Orologio municipio di Rovigno", which means that the bell is intended for the tower of the town hall in Rovinj. On the flag at the top of the iron structure is the year 1907, when the tower was reconstructed. The bells were made at the Flapagna foundry in Trieste.
Recommend it to your friends through these services.. ...