Excellent tourism results recorded in Rovinj during the Easter holidays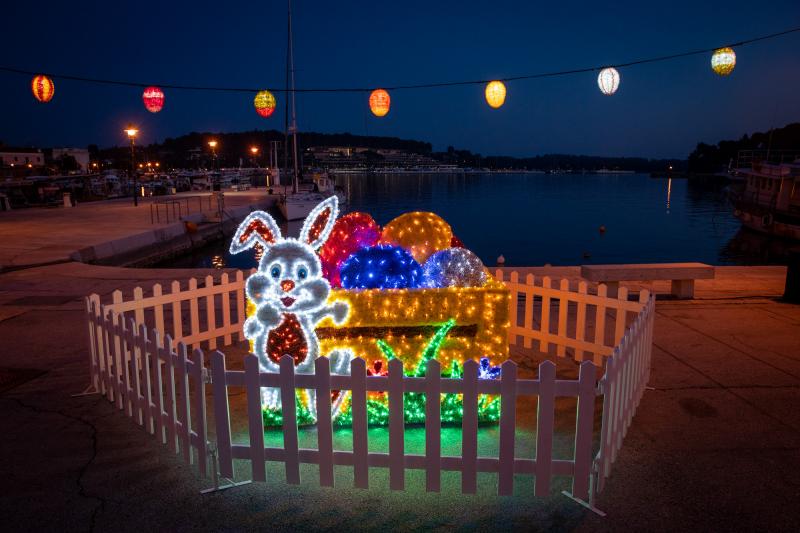 Photo gallery
19.04.2022

From the beginning of the year to 19 April 2022, 215,461 overnight stays were recorded in the area of the city of Rovinj, which is 6 percent more than in the same period in the record year 2019. These overnight stays were realized with a total of 68,675 arrivals, which is 1 percent more than in 2019.
This year, 123 percent of overnight stays and 153 percent more arrivals were realized compared to the same period in 2021.
The largest number of overnight stays in that period was made by local guests (31 percent share), Austrians (17 percent share), Slovenes (17 percent share), Germans (11 percent share) and Serbs (5 percent share).
Most overnight stays were recorded in hotels (71 percent), private accommodation (19 percent) and camps (7 percent).
During the Easter holidays, in the period from 15 to 18 April, 33,214 overnight stays were recorded, and more than 10,000 guests stayed daily, which is three percent more than Easter 2019 and 200 percent more than last year's Easter.
Most of the guests came from Germany (24 percent), Austria (18 percent), Croatia (13 percent), Italy (12 percent) and Slovenia (8 percent).
The rich Easter program began with a spring fair of flowers and homemade products that lasted from Tuesday, April 12, to Friday, April 15. In addition to flower exhibitors, the fair hosted local producers and their homemade products based on honey, milk, meat, fish and medicinal herbs, useful wooden, ceramic and glass items as well as items made from recycled materials.
On Saturday, April 16, at 10:00, Rovinj majorettes marched through the city centre accompanied by the Rovinj Brass Band, and an Easter handicraft fair was held on Pino Budicin waterfront throughout the day.
The traditional 'Feel the breeze of Rovinj' - a free guided city tour in four languages took place from 17:00 to 19:00 for all those who wish to visit the cultural and historical sights of Rovinj. During a walk through the old town streets, the participants were greeted by music playing in Casale Street where Rovinj musicians sang old Rovinj songs, bitinada and aria da nuoto. Finally, in the Agrorovinj tasting room, in the premises of the former Rovinj bakery, the participants tasted Rovinj wines, olive oils, homemade cheese and attended a workshop on the preparation of Istrian soup, and afterwards enjoyed their tasty creation.
The first 7 km long Štrika Ferata Olive Oil Wine Walk tour was held on the newly renovated bicycle and pedestrian route that connects Kanfanar and Rovinj. At the start line, all participants received a bag with a tasting glass and a map of the route, and throughout the tour, at eight stops, participants could taste wines, olive oils, homemade cheese, Istrian prosciutto and cod.
On Easter Day and Easter Monday, the main square hosted an entertainment program that included Rovinj performers: Davor Terzić trio, DJ Fusion, Rovinj Music Lab, DJ Ello, Sugar Notes and Banda Latina.
In the morning, the House of Batana association was giving away traditionally decorated Easter eggs to the locals and guests of the city of Rovinj on Aldo Rismondo waterfront, accompanied by a special entertainment program.
Yesterday, on Easter Monday, 5,200 guests stayed in our city, which is 189 percent more than on Easter Monday in 2021.
Next week we expect a large number of guests due to the upcoming holidays in Italy and Slovenia and the May Day weekend.
Recommend it to your friends through these services.. ...