Opening of the Visitor Centre on the site of the Fantazija Quarry geological monument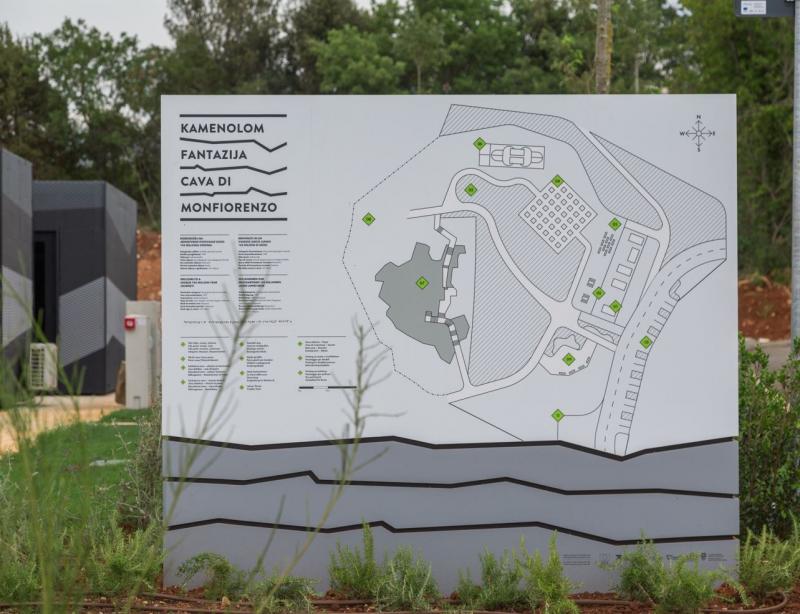 Photo gallery
15.07.2022

After many years of working on the Fantazija Quarry project design and implementation, today was the official opening of the only geological monument in Istria County, widely known as Rovinj's Cava di Monofiorenzo. It was listed as a protected site in 1986 owing to the work and effort of the late Professor Josip Tišljar, PhD, who was a full member of the Croatian Academy of Sciences and Arts and the first to recognise the geological significance of the quarry. He communicated his findings to the academic community and the geological public at the 4th Regional Meeting of Sedimentology held in Split in 1983.
Due to the uniqueness of the site and the scientific, aesthetic and educational importance of the dolomite rocks extracted from the quarry, the Fantazija Quarry is protected as a natural monument. The rocks in the quarry have been cut straight and polished, revealing a structure with visible layers of dolomitic rocks formed in various time periods. The composition makes the quarry walls aesthetically pleasing, but more important is its scientific and educational relevance. The interesting and clearly distinguishable layers of different genetic types of dolomites with preserved structural and textural features explain the formation of this type of rock and similar local geology in other parts of the world, as well as the episodes of activities and processes that took place in the paleoenvironment throughout the geological history.
The purpose of the "geoIST3A – Valorisation of Natural Heritage in Istria County Improving the Competitiveness of the Tourist Offer" KK.06.1.2.02.0049 project was to facilitate the exploration, preservation and educational and tourism valorisation of the Fantazija Quarry. It took many years from the project's start to finish and now the quarry is equipped with state-of-the-art infrastructure and professionally developed educational and interpretive program about geology and geological events that can be seen at the site and in the Istria County area.
The project was managed by the Public Institution Natura Histrica as the lead parent and non-refundable grant beneficiary, with project partners being the City of Rovinj-Rovigno and the Tourist Board of the City of Rovinj-Rovigno, with full support of Istria County and other county institutions involved in the implementation of the project and project activities. The total value of the project is HRK 9,836,817.37, of which HRK 6,837,312.57 was co-financed from the European Regional Development Fund (ERDF) through Operational Programme Competitiveness and Cohesion (OPCC).
With the completion of project activities, the Visitor Centre of the geological natural monument the Fantazija Quarry has become the only site of this type in Istria County that will find a wide audience, featuring expert-led geological lectures for pupils, students and the general public.
The visitor center is open every day from 10 a.m. to 6 p.m. Entrance is free.
Recommend it to your friends through these services.. ...