14th Night of St. Lawrence in Rovinj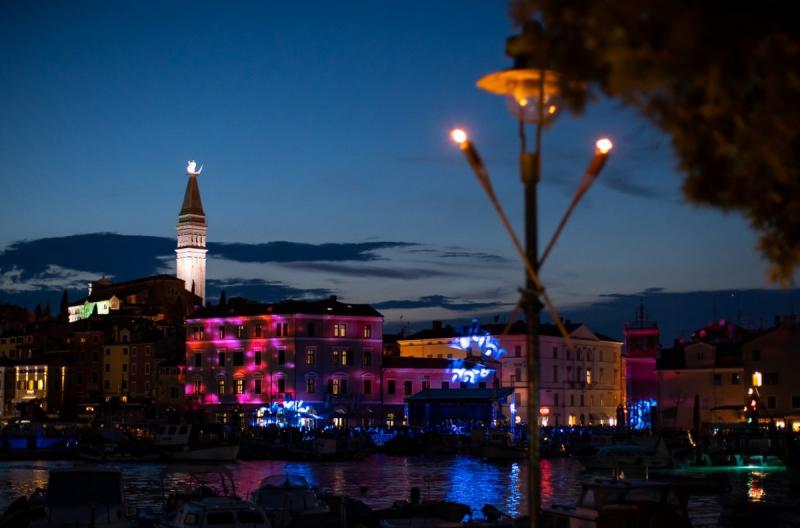 Photo gallery
03.08.2022

St. Lawrence's Night, an event held in the period of the year when the shooting stars, better known as the "tears of St. Lawrence", can be seen most clearly in the sky, will be held on Wednesday, August 10, for the fourteenth year in a row. To accentuate the romantic atmosphere in the town on this special evening, waterfront lighting was turned off and torches were lit instead, while candlelight radiated from numerous restaurant and bar terraces, creating just the right atmosphere and completing the experience of the night under the stars. The entertainment program featuring romantic music at different locations across the town, and the light effects adorning the main town square and the square near the big pier will add additional charm to the Rovinj's romantic atmosphere.
The event will be opened by a promenade and a dance performance by the members of the Roxanne dance group will open the who will be prancing around the town dressed in court gowns, accompanied by musicians and torch light, suggesting the tone of the entire event.
The program will start at 21:00 and the following performers will be gracing the stage at five locations:
• MMC, Carera, town waterfront, Monte – Roxanne dance group
• Trg brodogradilišta – Muha & Dado
• Obala A. Rismondo – Duo Sara & Saša
• M. Tito Square – Band Nola; Band Ricordando Faber
• Riviera Square – SAC-KUD Marco Garbin / Bitinaduri
• Plateau of the St. Euphemia church - Night of love under the stars: Musical program in honor of the St. Lawrence's Night – Soloists, actors and dancers of Opera b.b. under the leadership of Darjan Ivezić (Lidija Horvat Dunjko, Blanka Tkalčić, Siniša Galović, Ronald Braus, Rade Radolović, George Baldowin, Leopold Stasić)
• A transportation by boat will be organized from the small pier to the island of St. Catherine for all interested guests.
Visitors will be able to enjoy the permanent exhibition of the newly renovated Ecomuseum Batana, which will be open until 24:00 on that occasion. Batana models will be exhibited in front of the Ecomuseum Batana, and fishermen from Rovinj will weave fishing nets. On the Great pier, the construction of the batana boat will be shown, and the caulk will demonstrate how the bottom of the boat is built and restructured.
Download the flyer Sv. Lovro 2022
Recommend it to your friends through these services.. ...