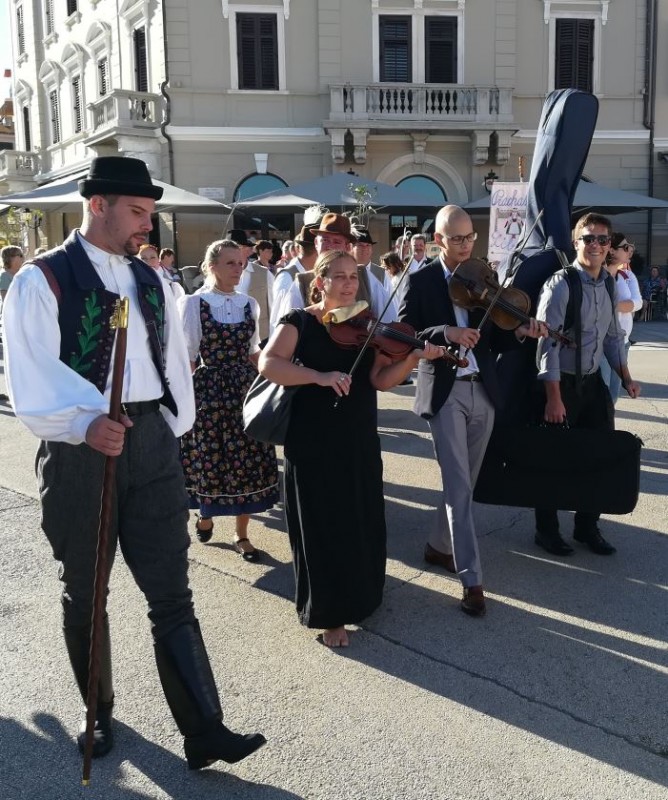 Photo gallery
29.09.2018

From the 27th to the 30th September 2018, the first international folk festival FAKS Dance, the new section of the FAKS Festival (Amateur Cultural Art Festival), was held. Folklore groups from Slovenia, Czech Republic, Hungary, Estonia, Austria, France and Croatia participated, who, besides having two concerts and one presentation, had the opportunity to participate in expertly run dance workshops.
More than 300 dancers gathered: the folkloric groups Črnučan, Ljubljana and Bled from Slovenia, folklore ensemble Libin-S from Czech, folklore group Balaton from Hungary, Lembrancas de Portugal folklore group from France, young folklor group Solek from Estonia and from Croatia: folklore group Plesarin from Rovinj, folklore group from Pazin, folklore group Vedar Osmijeh from Zagreb and the folklore group Zadobarje from Karlovac.
The FAKS festival has been re-recognized and included by the European Association of Festivals in the list of Europe for Festivals, Festivals for Europe (EFFE) and its official guide for European festivals for 2017/2018. It is an international festival platform connecting festivals that are deeply committed to the arts, their communities and European values, and at the same time invites and informs audiences about these festivals across Europe.
Recommend it to your friends through these services.. ...