Rovinj wins Champion of Croatian Tourism title at the Days of Croatian Tourism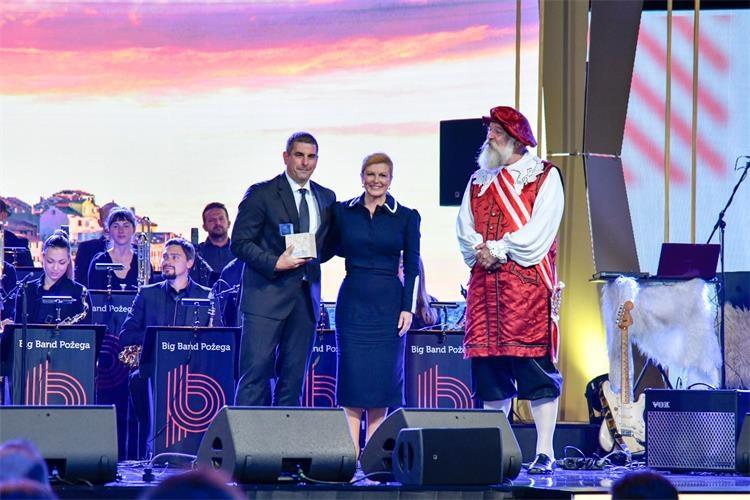 Photo gallery
5.10.2019

At the Days of Croatian Tourism 2019 organised by the Ministry of Tourism of the Republic of Croatia, the Croatian National Tourist Board and the Croatian Chamber of Economy held in Slavonia 2-5 October, 2019, on the first evening of the event in Vinkovci Rovinj was awarded the coveted Best Leisure Destination in Croatia Award. Monte Mulini won the Best Five-Star Hotel Award, while Grand Park Hotel won the Hotel Investment of the Year Award. The Family Hotel Amarin won second place in the Best Family Hotel category, and Rovinj ACI Marina garnered a special recognition for the development of luxury tourism.
The second awards ceremony was held in Osijek and Rovinj was announced the Champion of Croatian Tourism and the Destination of the Year 2019. Other destinations competing for the title were Mali Lošinj and Zadar and Croatian President Kolinda Grabar Kitarović presented the award to the mayor of Rovinj Marko Paliaga.
Rovinj has been among the tourism leaders in Croatia for years, not only by overnights, but also owing to continuous development and upgrading of the quality of stay and destination offerings. In 2019 two of the biggest investments in recent years have been completed: the 5* Grand Park Hotel Rovinj and the new ACI Marina with five anchors. Rovinj's nightlife got an exciting and brand new Steel Venue Club attracting guests from all over the region and the new Lungomare Plaza promenade and several newly opened restaurants are a great new addition to Rovinj's dining scene.
In addition to high-end accommodation and numerous and diverse summer attractions, Rovinj features multiple amenities and sporting and recreational infrastructure of a high standard, wellness and lifestyle products and services and often hosts business and sporting events, so there is always something interesting happening and elevating the town's cultural, entertainment and dining scene. Rovinj nurtures its traditions and heritage and this year the town's House of Batana Project entered the final race for the European Sustainable Cultural Tourism Award.
Rovinj is a top tourist destination, not only due to investment in hospitality and infrastructure, but also because it is increasing investment in all other segments, which is why our guests love to visit all-year-round and feel welcome in our town. The town infrastructure has been improved, roads have been renovated and new parking spaces added and works have been completed on beaches. In addition to horticultural landscaping the town is dedicated to environmental preservation and we are valorising our natural environment and our unique old town as a cultural monument.
Rovinj recorded 661,715 arrivals and 3,850,000 overnights between January 1 and September 30, 2019 or 2% more arrivals and approximately the same number of overnights as in 2018. Rovinj is expected to reach 4 million overnights, for the second time in its history, early in November.
The major emitting markets have compensated for the drop in overnights recorded early in July and the German market, first by the number of recorded overnights, cumulatively shows a 3% decrease which was compensated by overnights of tourists from Austria and Italy, equaling the last year's figures. The Netherlands is in fourth place with a 12% drop compared to 2018, while the Slovenian and British market recorded a 10%, i.e. 4% increase compared to last year.
By accommodation type, campsites are in the lead with 1,629,072 (43%) overnights, but nonetheless that is a 13% drop compared to 2018. Hotels recorded 686,509 overnights (18%), reporting a 6% increase compared to the previous year. Private accommodations are third with 811,703 overnights (21%) and a 2% increase. Tourist resorts reported 476,452 overnights (12%) or 46% more than in 2018. One of the reasons for the increase is the changed Valalta categorization, which has been divided into camping units and site-built facilities that are assigned to the tourist resort category.
The above results have been accomplished with a total number of accommodation units offering 38,536 beds, which is 1,150 more compared to 2018 (+3%).
Recommend it to your friends through these services.. ...