3. Rovinj Beach Polo Cup 2018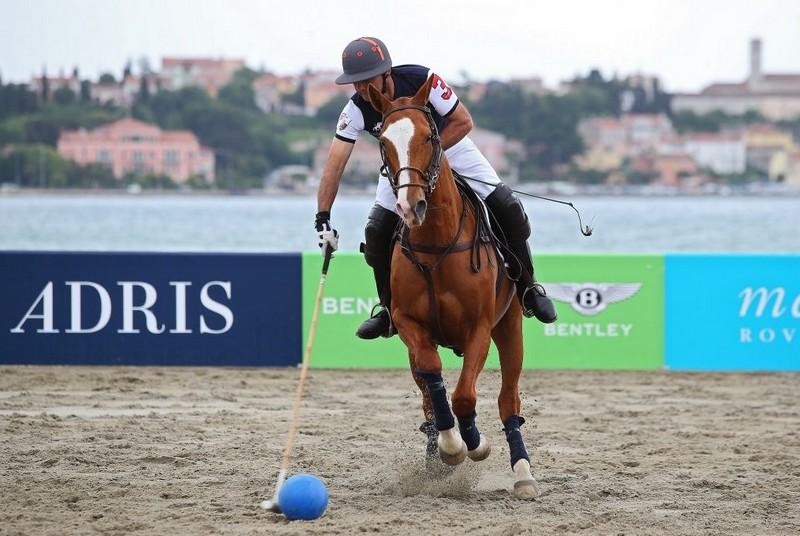 Photo gallery
Sports and entertainment spectacle
Rovinj looks forward to seeing you in June with an attractive sporting event - the Beach Polo Tournament, the only polo event organised in this part of the world.

This unique event will take place on the northern shores of Rovinj, close to Porton Biondi where the tournament arena will be set up, whilst the vicinity of the old town centre will also contribute to the overall event.
The first tournament of this kind took place in 2004 in Dubai and then again in 2005 on the beaches of Miami, followed by Belgium, England, Wales, Chile, Ireland and Uruguay... The rules are slightly different from traditional polo, although the main goal is to score a goal against the opposing team.
Four international teams will take part in the beach polo tournament, and instead of four players, each team will have three players. Players on horseback with the help of a long stick will try to take a small leather ball filled with air to the goal of the opposing team.
Beach polo usually involves more manoeuvrability and shorter passes at lower speeds because of the arena space. On each side of the field are goals made of easily overthrown goalposts set at a distance of 7 metres.
The game lasts 30 minutes and is divided into four time periods or chukkas. Teams change the side of the field they have been playing at the end of each chukka and replace tired horses so that up to 48 horses may be needed for the game.
The days of the Beach Polo Tournament bring with them quite unusual events, and visitors are certain to enjoy Saturday's polo parade along the coast of Rovinj.
Rules of the game:
The Rovinj tournament is played according to the Hurlingham rules.
The game consists of chukkas (the word comes from the Hindi term chakkar from Sanskrit chakra which means circle or wheel) lasting 4-6 minutes.
When playing on the polo field, the teams form a line with the players set to form 1, 2, 3 against each other, with a judge who performs all of his duties while standing off the field.
Teams change the side they play on the field after each chukka. Sides are changed to reduce the benefits that the wind might bring, if there is wind, so that each team has a fair chance to start the game from the right, the easier side. All players have to play using their right hand (play using the left hand was abolished for security reasons in 1975).
Each team player has a specific role and they are marked with numbers 1, 2, 3.
Number 1 has an offensive-oriented position on the field and should cover the opposing team's number 3. Number 2 has an important role in the attack – when galloping he breaks forward and scores goals either alone or by passing the ball to the number 1, covering him by riding behind him.
In defence number 2 covers the opponent's number 3, which is also the opposing team's best player.

Number 3 is a tactical leader who should have a powerful shot with a far-reaching range in order to easily be able to pass the ball to his number 2 and number 1. Number 3 is normally the team's best player and has the highest handicap, having the role of main player in defence, which otherwise in polo tournaments would have a fourth player.

» Rovinj Beach Polo Cup 2018
» www.croatiapolo.com
» FB_Rovinj Beach Polo Event