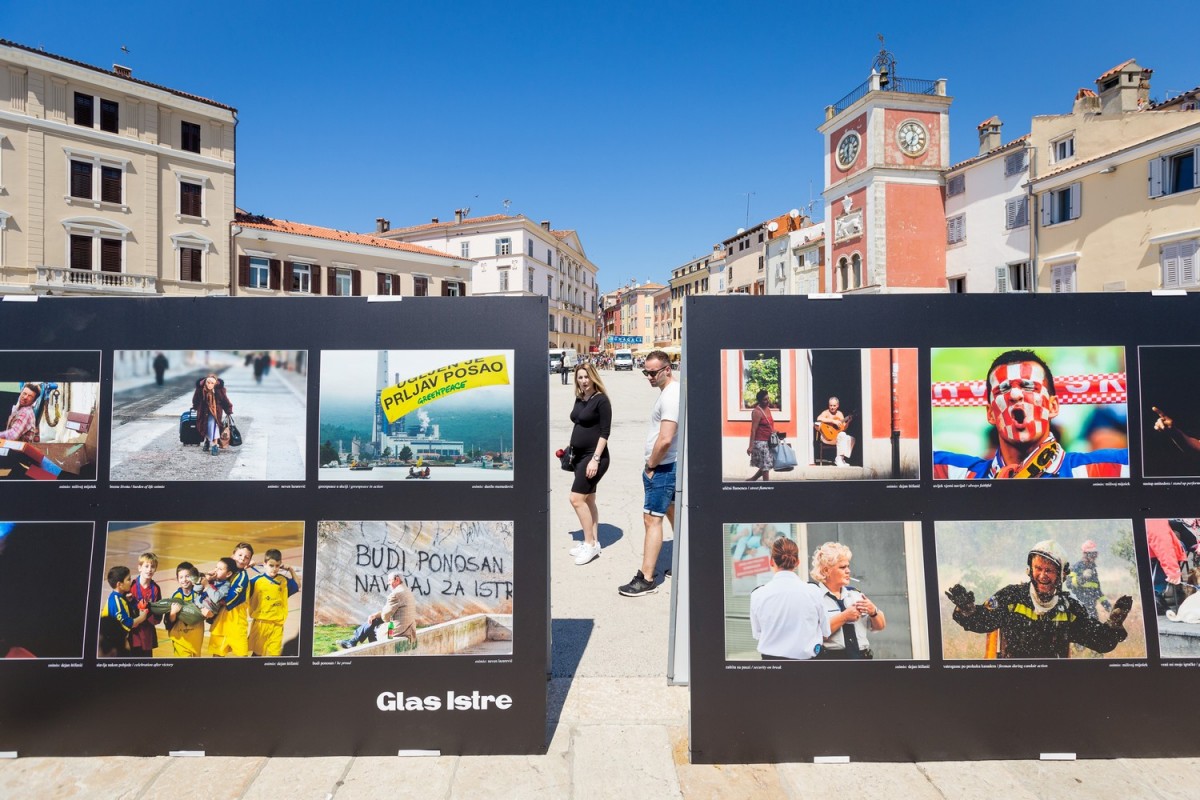 Photo gallery
Photofraphy festival
Rovinj Photodays is one of the biggest photography festivals in south-eastern Europe. The final part of the festival takes place in Rovinj, and it is preceded by different activities such as yearly contests, travelling exhibitions and similar events. A series of workshops, lectures, portfolio reviews, exhibitions and other events take place during the Rovinj festival. Program schedule:
FRIDAY, May 4, 2019
1 PM - COUNTY MUSEUM OF THE CITY OF ROVINJ, 1st FLOOR: Official opening of the festival
EXHIBITIONS:
1 PM - COUNTY MUSEUM OF THE CITY OF ROVINJ: FINALISTS' EXHIBITION - International Competition of Contemporary Photography - 12th Rovinj Photodays, 2019 - nominated authors with approximately 115 photos from all 7 categories: architecture, documentary photography, portraits, landscapes, body, fashion and artistic concept
Curators: Dunja Nekić & Iva Prosoli
1:45 PM - ST. THOMAS CHURCH: : SONJA ŽUGIĆ "PREDELA" – exhibition of the winner of the Rovinj Photodays Grand Prix 2018
Curator: Dunja Nekić
2:30 PM - COMMUNITY OF ITALIANS OF THE CITY OF ROVIGNO: BALAZS DEIM "SPACE" - exhibition of the winner of the contest "Different Worlds" organized by Photon Center for Photography in Ljubljana
Curator: Špela Pipan
3:15 PM – CVA BATANA: BRUNA KAZINOTI "BLUE EYES" - exhibition of fashion photography produced by Rovinj Photodays 2019
OUTDOOR EXHIBITIONS: Livingstone Association: FRIENDS OF THE SEA 2019: "INCOMPARABLY BLUE – NORTH ADRIATIC"
The 2019 edition of the "Friends of the Sea" exhibition series consists of 60 large-format presenting a series of captivating photographs of the underwater world of the North Adriatic. Photos by Danijel Frka and Marino Brzac.
PRESENTATIONS, WORKSHOPS, LECTURES, GET-TOGETHERS, SHOW:
THURSDAY, May 2, 2019
12 PM - 4 PM MMC (Multimedia Center Rovinj): Fashion Photography Masterclass by MARE MILIN: "FASHION PORTRAIT AND EMOTION" (Powered by Profoto) - Part 1 (for registered and accredited participants)
FRIDAY, May 3, 2019
10 AM - 2PM MMC (Multimedia Center Rovinj): Fashion Photography Masterclass by MARE MILIN: "FASHION PORTRAIT AND EMOTION" (Powered by Profoto) - Part 2 (for registered and accredited participants)
5 PM - Cultural Center Rovinj: HUAWEI BY TIBOR GOLOB - presentation of a new mobile phone - Huawei P30 Pro, an introduction to the workshop - part 1
5:45 PM - Cultural Center Rovinj: photo clubs coordination
8:00 PM - TN Amarin: dinner for accredited guests
10 PM - TN Amarin: After party by Sarajevo DJ Photo Friends, with a welcome drink by Geržinić Wines
SATURDAY, May 4, 2019
10:00 AM - 12 PM Rovinj: HUAWEI PHOTO WORKSHOP BY TIBOR GOLOB (for registered and accredited participants)
10:30 AM - 12 PM - Cultural Center Rovinj: portfolio reviews (by previously agreed procedure and submissions)
12:30 PM - 1:15 PM Cultural Center Rovinj (Press Centre building, 2nd floor): a get-together with the festival's jury president – Hrvoje Slovenc
1:30 PM - 2:15 PM Cultural Center Rovinj Artist Talk - Bruna Kazinoti, fashion photographer
2.30 PM - 3 PM Cultural Center Rovinj Artist Talk - competition category winner
7 PM - TN Amarin: dinner for all the accredited festival guests
9:15 PM - TN Amarin: Official Awards Ceremony for the winners of the Rovinj Photodays 2019 Festival and the Grand Prix winner announcement
10:15 PM - TN Amarin: After Party: DJ Luca Montecchi Show
SUNDAY, May 5, 2019
10 AM - 10:30 AM - TN Amarin: meeting of the Festival's committee
» www.photodays-rovinj.com
» FB: Photodays Rovinj