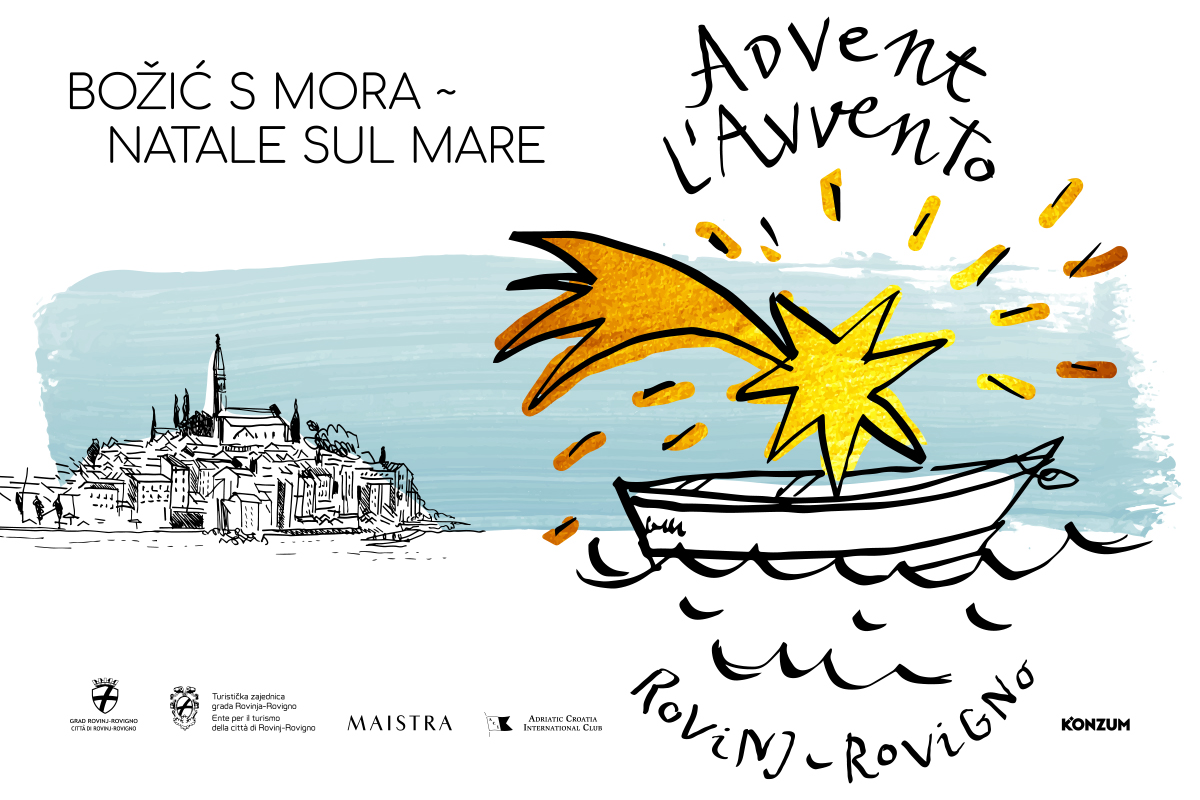 Christmas by the Sea
Sail with us in the Advent edition of the traditional wooden batana boat, exploring the history and heritage all the way to modern Rovinj. Discover local Istrian flavours through specially designed Advent menus, accompanied by plenty of good music, entertainment and festive holiday moments for everyone.
St. Euphemia church
From 26.11.: Life-size nativity scene, the work of the Christian Community of Rovinj, headed by the professor of fine arts mag. Toni Žufić and his students, together with other volunteers from Rovinj.
M. Tito square
27.11. at 05:00 p.m.: Lighting of the Advent candle on the Advent wreath woven around the fountain.
09.12. - 08.01.: Christmas huts with traditional Istrian food and drinks on the main square.
Music and entertainment with live concerts and DJ performances:
09.12.
at 08:00 p.m.
Vatra
10.12.
at 08:00 p.m.
Funbox
11.12.
at 08:00 p.m.
Gig Savers
12.12.
at 08:00 p.m.
Sugar Notes
13.12.
at 08:00 p.m.
DJ Žujo
14.12.
at 08:00 p.m.
Do Caramai
15.12.
at 08:00 p.m.
Duo Evolution
16.12.
at 08:00 p.m.
Trio Terzić
17.12.
at 08:00 p.m.
Blues brajders
18.12.
at 08:00 p.m.
Jet moon
19.12.
at 08:00 p.m.
Gordan Gregurović
20.12.
at 08:00 p.m.
Viecia Ruveigno
21.12.
at 08:00 p.m.
Radna akcija
22.12.
at 08:00 p.m.
Klapa Valdibora
23.12.
at 08:00 p.m.
Le Monde
24.12.
at 08:00 p.m.
David Temelkov
25.12.
at 08:00 p.m.
Music (K)nights
26.12.
at 08:00 p.m.
Alen Vitasović
27.12.
at 08:00 p.m.
DJ SoChic
28.12.
at 08:00 p.m.
DJ Fusion
New Year's Eve programme:
29.12.
at 07:30 p.m.
Rovinj-Rovigno Music Lab
at 09:30 p.m.
Night Express
30.12.
at 08:30 p.m.
Dj Roza
at 10:00 p.m.
Opća opasnost
31.12.
at 08:30 p.m.
Dj For shure
at 10:15 p.m.
Tony Cetinski
at 00:00 a.m.
Laser show
at 00:15 a.m.
Atomsko sklonište
Lungomare Plaza
Every Saturday and Sunday from 10:00 a.m. to 05:00 p.m.:

Christmas huts offering Istrian delicacies
Entertainment and music programme: dance, orchestral and DJ performances
Entertainment and animation for children in the playroom next to the Primi Terreni Restaurant

Restaurants:

Primi Terreni

Istrian wine and rakija brandy tasting
Unique selection of hot cocktails
Grill
Cromaris fish grill
Creative Christmas menu

Katarina's Patisserie

Special offer of Christmas cakes and biscuits
Speciality tea collection
Unique selection of hot cocktails
Christmas cicchetti
Hotel Lone
Advent food and drinks, concerts and DJ performances – every Friday and Saturday from 05:00 p.m. to 01:00 a.m.:

Enoteca 05:00 p.m. – 07:00 p.m.

Wine and sparkling wine tasting
Live music in the conservatory

Tekka by Lone 06:00 p.m. – 11:00 p.m.

Tasting menu with Japanese delicacies
Signature cocktails

Night Club 08:00 p.m. – 01:00 a.m.

DJ music
Special offer of Advent cocktails and drinks
To find out more about the Advent program in Rovinj visit www.rovinjadvent.com and The ADVENT 2022 Program