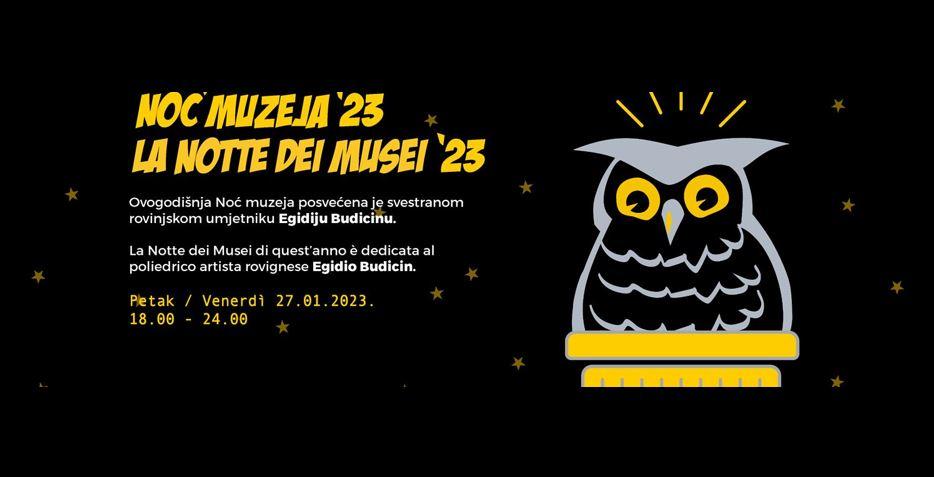 Photo gallery
This year's Museum Night is dedicated to Rovinj artist Egidio Budicin.
This Friday, January 27, the Night of the Museum brings again in Rovinj a rich program in several locations, from the "Antonio Gandusio" theater, through the City Palace, the "Batana" Eco-Museum and the "Batana" Gallery, all the way to Rovinj's MMC and Spacio Matika.
Organized by the Museum of the City of Rovinj-Rovigno, with the support of the City of Rovinj-Rovigno and the local Tourist Board, the program of this year's Museum Night will be dedicated to the versatile Rovinj artist Egidio Budicin.
The first "stop" in this longest museum night of the year will start at 6 pm in Rovinj's theater "A. Gandusio" with the announcement of the monograph by Egidio Budicin entitled "Between creation and renewal". In addition to the author himself, the promotion will be attended by Iva Körbler, author of the text about Budicin's artistic creation, the director of the Museum of the City of Rovinj-Rovigno, Tanja Ranić Rovis, with the moderator, art historian, Gorka Ostojić Cvajner.
In the continuation of the evening, the wall painting "Allegory of Good Government" from 1584 will be presented in the City Palace, which was restored by Egidio Budicin. The lecture will be given by the historian Marino Budicin starting at 7:15 pm.
At 8 pm, Libero Benussi will present Vlado Benussi's book "La viècia batàna" in the Ecomuseum of the Batana, whose cover and illustrations were created by Egidio Budicin. The Museum itself will be open all evening, from 6 pm to 12 am, and visitors will be able to see several illustrations from the book.
The CVU Batana gallery will also be open throughout the evening, where four paintings from the collection of Old Masters from the Rovinj-Rovigno City Museum's holdings, restored by Egidio Budicin, will be exhibited. The paintings, as well as Budicin's restoration work in Rovinj, will be presented at CVU Batana at 8:45 pm.
Only fifteen minutes later, in the Multimedia Center, the painting work of this artist will be presented, and the accent of the exhibition, which will be open for visitors from 6 pm to 12 am, will be on his works with local themes.
Spacio Matika, an integral part of the "Batana" Ecomuseum, will also be open for the duration of the Night of the Museum, and will offer a typical fish gastronomic offer, along with traditional autochthonous bitinades of the KUD "Marco Garbin".
Program Noć muzeja '23 - Programma La notte dei Musei '23