222 Trail of the Noble Giant (family&recreation)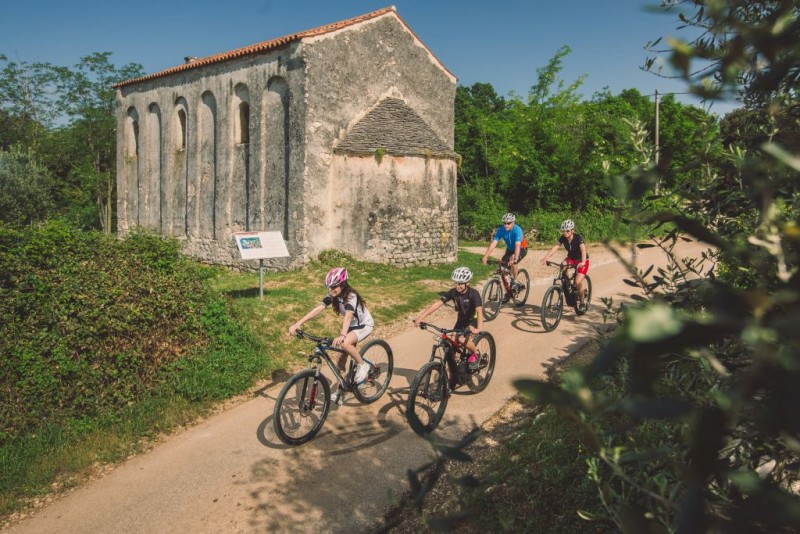 Photo gallery
Itinerary description:
The Trail of the Noble Giant is a cycling route that starts and ends at the Amarin Resort and reveals the important sacral heritage of the Rovinj area.The Basìlica valley is located in the north-eastern part of the town and was formerly an agricultural good with a series of Romanesque churches from which the first on our way is the most preserved St. Christopher's Church, which dates back to the 11th century. Legend has it that Christopher was a giant man with an enormous strength who was persuaded by a hermit to transfer travellers, including the old and the helpless over the river. One time, it is said, he also carried the boy Jesus across the river.During the Middle Ages, Christopher was displayed on the city walls and entrances to the churches because it was believed that anyone who looked at him could travel anywhere.Continuing your ride under the protection of this noble giant, you reach the ruins of the church of St. Prothus, an Aquileian martyr, which was built in the 12th century at the foot of Monter Hill, and then on to Valalta Bay and the remains of the Romanesque ivory-covered St. Bartholomew's Church, probably the largest of the many exceptional small churches here.The islands and coastline of the area surrounding Rovinj make up an area of significant landscape, to which the last point of our itinerary also belongs, the Saline Bay, which is the habitat of a number of protected flora and fauna specimens.
Technical characteristics:
The Trail of the Noble Giant is suitable for riding on electric, mountain and trekking bikes. It is 11.7 km long of which 7.4 km is ridden on macadam roads, whilst 4.3 km is covered by asphalted road. This is an easy cycling trail with a total altitude difference of just 162 metres making it ideal for a family ride with occasional stopping. This route can be completed in 40 minutes, but if you choose to ride recreationally with shorter breaks, you will probably need 70 minutes.
Download map: Family & recreation
More about the trail on istria-bike.com
Recommend it to your friends through these services.. ...