Northern port of San Pelagio officially opened in Rovinj today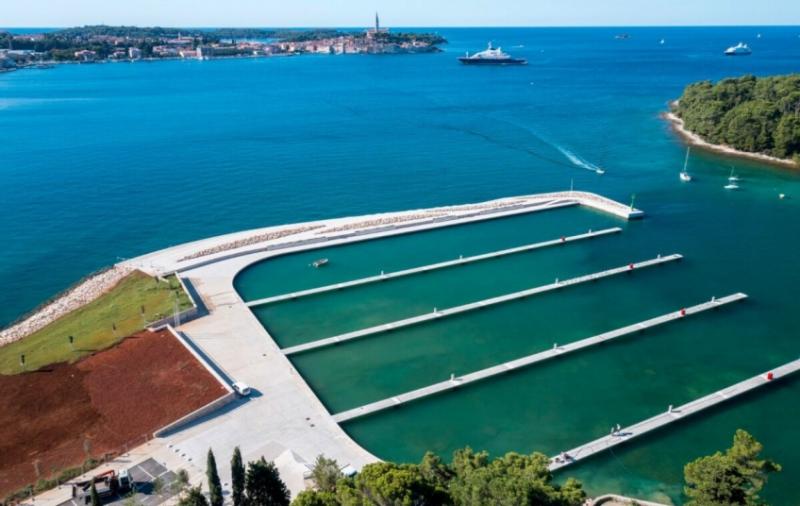 Photo gallery
15.09.2021

On the occasion of marking the Municipal Day and the feast of the patron St. Euphemia, the new municipal port of San Pelagio was inaugurated today.
The northern port of San Pelagio is the investment worth HRK 53,312,039.53, which was mostly generated by the Town of Rovinj and the Port Authority, while the Ministry of the Sea, Transport and Infrastructure provided HRK 8.5 million and the County of Istria HRK 1.6 million.
The municipal port will have berths exclusively for citizens' vessels for personal purposes, which will greatly contribute to relieving the town port of Andan in the town centre. It is a capital municipal project and the largest investment in maritime infrastructure in the area of the town of Rovinj-Rovigno.
The new port has a total of 375 berths. Most of the planned berths are intended for vessels up to six meters. A smaller number of berths will be for vessels up to eight meters, while 10 berths are planned for boats up to 10 meters. Each pontoon will be equipped with cabinets with electricity and water connections and a fire hydrant network, and the price of using them will be a lump sum and calculated as a fee in the berth bill.
The new port will bring added value to the northern part of the town, and it will not only benefit boat owners, but also other citizens and guests, since the outside of the breakwater has a sun deck with space for lounging and a mat and stairs to the sea. Along with the breakwater, there is also public lighting and green vegetation that will make the port and the sun deck, which already adorns the most beautiful view of the old town, even more attractive. The entire northern port will be under a video surveillance system, and as part of it, a parking lot is planned in the zone 4, which means it is free for town residents.
Recommend it to your friends through these services.. ...