The 15th Night of St. Lawrence Held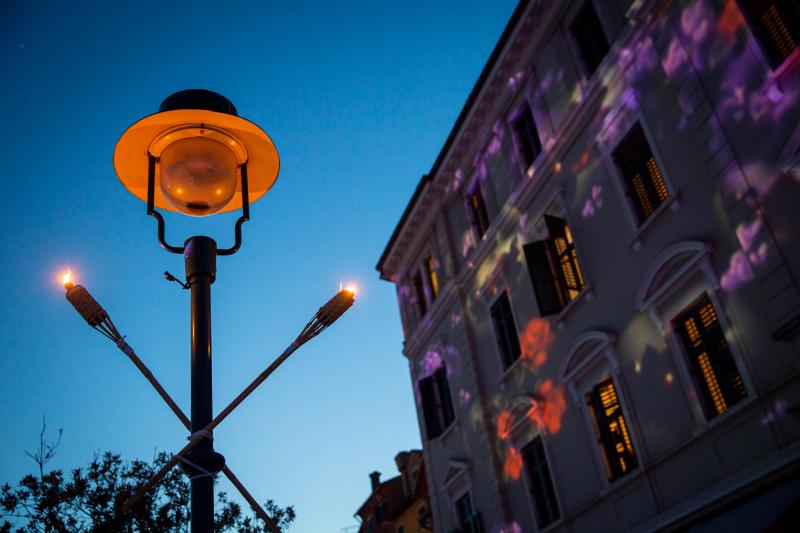 Photo gallery
14.08.2023

On Saturday, August 12th, the 15th edition of the event called the Night of St. Lawrence was held, during the period of the year when the shooting stars, better known as the "tears of St. Lawrence", can be seen the most clearly in the sky. In order to create a romantic ambiance in the town, street lighting was turned off at the waterfront and candlelight poured from numerous terraces of bars and restaurants, all for the just the right atmosphere to complete the experience of the night under the stars.
The entertainment program, featuring romantic music at different locations across the town, and the light effects adorning the main town square and the square near the Great Pier, added to the charm of Rovinj's romantic atmosphere.
The event was opened by a promenade and a dance performance by the members of the Roxanne dance group, dressed in court gowns, who had under the light of torches set the tone for the entire event, all along the main town street Carera, Bregovita Street, Sv. Križ Street, and the town waterfront until Trg brodogradilišta.
The program started start at 9 p.m. and the following performers graced the stage at different locations:
MMC, Carera, town waterfront, Monte – Dance group Roxanne
Trg brodogradilišta – Group El Gato e le Volpi
Obala A. Rismondo – Duo Sugar Notes
M. Tito square – Marko Tolja / Trio Music (K)Nights (from 8 p.m. DJ 4 SHURE)
Riviera square – Duo Viecia Ruveigno / SAC-KUD Marco Garbin
Baluota – Trio Vaya con Dinos
Poljana sv. Tome – Komorni zbor - Coro da camera "Rubino"
Plateau in front of the St. Euphemia church – Duo Gracijan & Davor Terzić
At the Great Pier, members of the House of Batana Association prepared traditional fish specialties of Rovinj, while a caulker demonstrated how the bottom of the boat is built and restructured, and a fisherman demonstrated how fishing nets are weaved.
A boat ride was organized from the small pier to the island of St. Catherine for all interested guests.
Recommend it to your friends through these services.. ...