Istrian Agrotourism Open Days 2023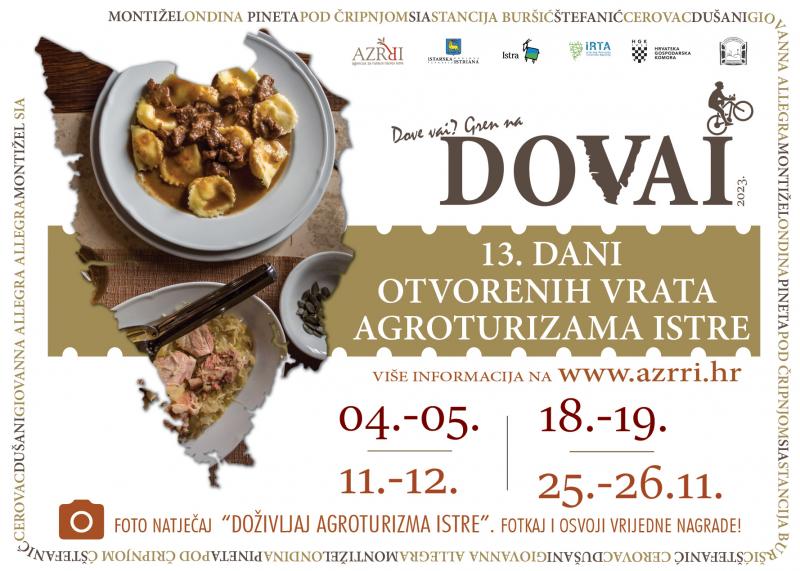 Photo gallery
31.10.2023

During the 13th edition of Istrian Agrotourism Open Days, ten agrotourisms located throughout Istrian County offer authentic traditional Istrian dishes at a promotional price. The event takes place during four weekends in the month of November: 4-5th, 11-12th, 18-19th and 25-26th November 2023. Agrotourisms offer menus based on food from their own production in combination with the presentation of their own products, as well as products from local family farms.
Agritourism Cerovac from Nedešćina, agrotourism Dušani from Pazin, agrotourism Giovanna Allegra from Šumber, agrotourism Montižel from Grožnjan, agrotourism Pineta from Sv. Martin near Nedešćina, agrotourism Sia from Vodnjan, agrotourism Štefanić from Kaldir near Motovun, agrotourism Ondina from Svetvičenat, agrotourism Pod čeripnjon from Sv. Petar u Šumi and Stancija Buršić from Vodnjan all participate in this year's event. The thirteenth edition of the Istrian Agrotourism Open Days will officially begin with the opening in the agrotourism Cerovac from Nedešćina on November 3, 2023.
As in previous years, all information about the food offer of all participating agrotourisms is available on the official website of the event - www.dovai.eu, and booking is possible through direct contact with the desired agrotourism. Agrotourisms will offer an aperitif, appetizer, main course, side dish, salad, and dessert in its prepared menu at a promotional price of 23.00 Euros. Family farms are specific for the production of their own products and the preparation of food in their own way, and this is exactly what will make the different menus stand out.
Visitors will be able to complete the entire experience at agrotourisms by getting to know the landscape. This year too, a photo competition is organized under the theme "Gourmets, artists, rural tourists". The participants are asked to depict the combination of gastronomy and art through a photo taken at the visited agrotourism, and the three most creative authors will be awarded. We suggest that you don't miss visiting this already traditional autumn event that promotes Istrian rural agricultural and gastronomic identity by making a reservation at www.dovai.eu.
Recommend it to your friends through these services.. ...