Rovinjsko Selo hosted Antonja and Istrian Supa Festival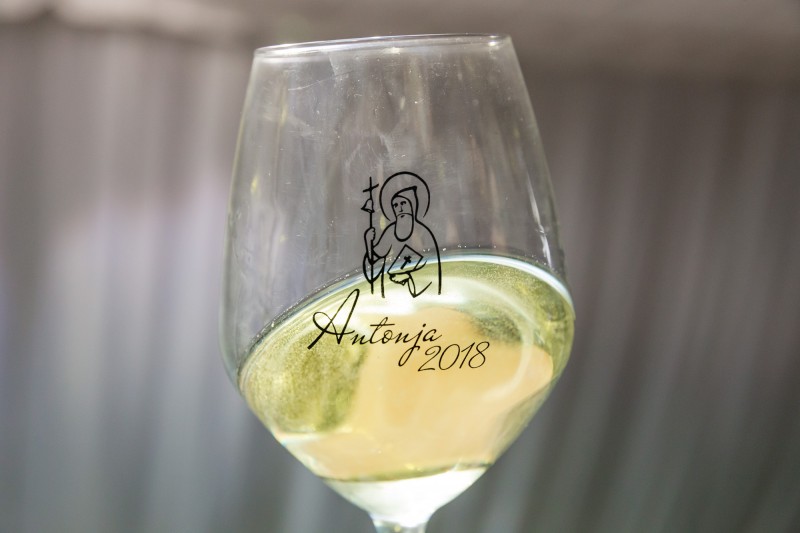 Photo gallery
22.01.2018

On Friday, 19 January, Rovinjsko Selo hosted the 27th Antonja Wine Exhibition, and the 15th Rovinj Olive Oil Exhibition. A total of 44 wines were evaluated in four categories - wines produced using the traditional method, wines produced with modern techniques and, of course, white wines and red wines. According to these categories, the champions are: the Agricultural trade Panjoka with their Malvasia in the category of modern white wines, Damir Dobravac with his Merlot in the category of modern red wines, Davor Iskra in the category of traditional white wines and Romano Orbanić in the category of traditional red wines. Modern white wines were the most numerous and best rated category on this year's Antonja, with eight gold and nine silver medals. Panjoka got two gold medals, Dobravac two, Vivoda three, and one went to Fameja Matošević, all for Malvasia. Among nine medals awarded to red wines, gold medals went to Dobravac, Matošević and Vivoda, all three for Merlot. In the category of traditionally produced white wines, the only gold medal went to Davor Iskra's Malvasia, and the only golden traditional red wine award went to Romano Orbanić for Teran. Fascinating is that out of 88 olive oil samples that were analysed, as much as 66 were awarded with a gold medal. This year's champion olive oil was produced by Branko Rajko, and at the top were also olive oils produced by Ennio Cherin, Ervin Božac, Klaudio Pokrajac, Franko Licul, Diego Marožin and Gino Perković. All olive oils and wines were offered for tasting to the visitors of Antonja - oils in a separate 'olive oil bar', while the winegrowers themselves offered their wines. The atmosphere was great thanks to the participants of the music school Accordion Center, the Cultural Art Society 'Stjepan Žiža' from Rovinjsko Selo, poets and actors from the Rovinj Association of Pensioners, and Eleonora Dobrović and Luka Brgić.
Saturday was marked by the 5th Istrian Supa Festival. Seven teams competed: team from the Cultural Art Society "Stjepan Žiža" from Rovinjsko Selo, Rekreativo team also from Rovinjsko Selo, a team from the Rovinj Association of Craftsmen, whose backbone was the Brancin restaurant team, then teams from the Rovinj's Vocational School 'Eugen Kumičić', Poreč's Tourism and Hospitality School 'Anton Štifanić', the 'Hrast-Motovun' team from Poreč and Motovun, and the 'Čuvari istrijanskeh užanci' team from Žminj. In preparation of their supas, all teams had to use only homemade bread as well as wines and olive oils of different producers. For the first time this year, supas were judged in two separate categories – traditional and creative. The jury, made up of experienced gastronomic experts, caterers, winemakers and gastro-journalists, led by Blanka Sinčić Pulić, evaluated a total of 14 supas because each team prepared both traditional and creative supa. The same supas were offered to tasting to the visitors, who could buy a bukaleta (small pottery jug) at the entrance and use it for tasting. The title of the best traditional supa went to the one prepared by the 'Hrast-Motovun' team, which included Zlatko Ilić, Dalibor Hrast and Radovan Handjal. In preparation they used Marko Fakin's Motovun Teran and Motovun olive oil produced by Elio Fakin. The best creative supa was prepared by the team 'Čuvari istrijanskeh užanci' from Žminj, which included Mirando Mužina and Zdenka Jakus. They used the merlot of Goran Baćac i.e. the winery "Vino z Kukurini" and the olive oil from oil mill in Perinići. The team from Žminj added some Istrian sweet bread pinca baked under the lid and Pazin's sweet biscuit cukerančić to their supa. As part of the Festival, the "official bukaleta" of the Istrian Supa Festival bearing a haiku poem of the rural poet Remiđ Sošić, "Kruh i pensire / privuzela je vona / istarska supa" ("Bread and thoughts / were taken over by / Istrian supa") was solemnly presented as well as the 'Supa box', conceived both as a souvenir and as a "kit" for making supa at home. 'Supa box' is the work of the creative association 'Faro 11'. It consists of a wooden box decorated with Istrian rural motifs and a recipe for Josip Pino Kuhar's supa in multiple languages, and contains a bottle of Teran, bukaleta, small bottle of olive oil, bag of sugar and pepper, spoon and a corkscrew.
Recommend it to your friends through these services.. ...