Creative fresco workshop "Buon fresco"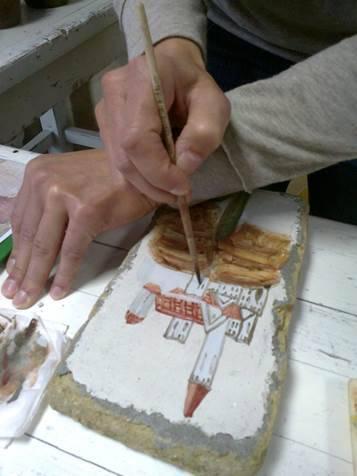 Photo gallery
At the workshop, we will look at fresco wall painting through the history of Istria and briefly present the fresco technique through the stages of its creation.
Each participant will prepare and transfer the fresco plaster "arriccio" to the substrate according to the recipe of the old "buon fresco" technique, make a sketch in scale, or pause, as a template for painting, prepare and transfer the final layer of "intonaco" fresco plaster, lay pausira on fresh background, paint the motifs with painting pigments, finish and, if desired, sign in Glagolitic.
The workshop is intended for groups of up to 10 people and is adapted to school-age children, students, retirees, etc.
Mentor: Hari Vidović, prof. art culture
Workshop dates:
Thursday, 22.10. from 5:30 to 8 p.m.
Saturday, 24.10. from 10.30 am to 1 pm

Participation: 100.00 kn
Info and registration: 841-246 / 095 211 65 78