Rovinj from the 19th Century until Today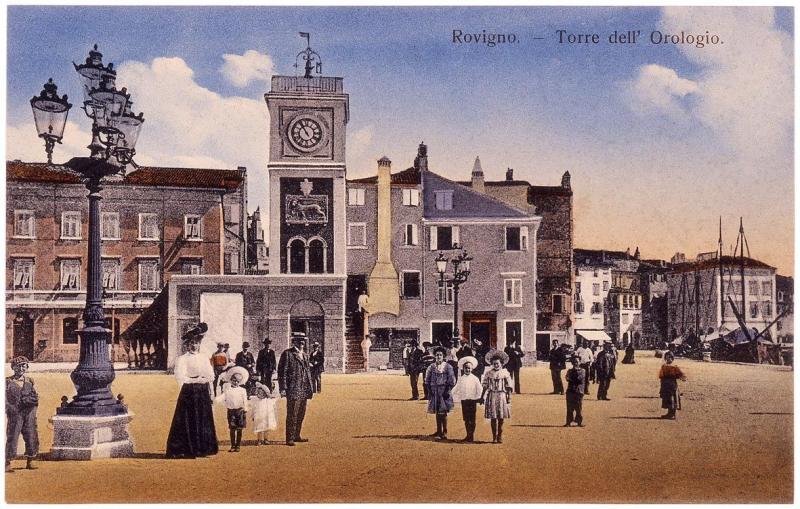 In 1816 street-lights were introduced, from 1819 to 1840 - the old school, in 1847 a steam mill for pasta production was built, in 1850 the Commerce-Crafts Chamber for Istria was founded, in 1853 a lighthouse on the island of St. John was built, from 1854 to 1865 - a theatre, in 1852 - cement production facility, in 1859 - Large pier, in 1872 - tobacco factory, in 1878 - wax factory, in 1882 - glass and sardine factory, in 1888 - hospital, in 1891 - Institute of marine biology. Rovinj was connected by a railway line; the first train arrived from Kanfanar in 1876. The port of Valdibora was expanded, in 1905 town gas lights were introduced, and in 1906 the town telephone.
After the break-up of the Austro-Hungarian monarchy Rovinj came under the Italian rule which lasted until the capitulation of Italy in September 1943, and by the end of the World War II the town remained under German occupation.
According to the Paris Peace Treaty from 1947 Rovinj was incorporated, along with other Istrian towns and islands of Kvarner, into Croatia within the Yugoslav state. In 1990 began the struggle for independence and separation from the communist Yugoslavia.
On June 25th 1991 according to the Constitutional decision on sovereignty and independence of the Republic of Croatia and the Declaration on the establishment of the sovereign and independent Republic of Croatia, the Republic of Croatia proclaimed its sovereignty and independence.
Rovinj today, in the maelstrom of democratic change and political struggle, strives to create good economic and urban conditions in order to secure the welfare of its inhabitants and visitors.
Sources: Rovigno d'Istria (publisher Fami ruvignisa, 1997), and Rovinj-Rovigno (publisher Garmond, 1994).
Recommend it to your friends through these services.. ...