2nd edition of the gourmet magazine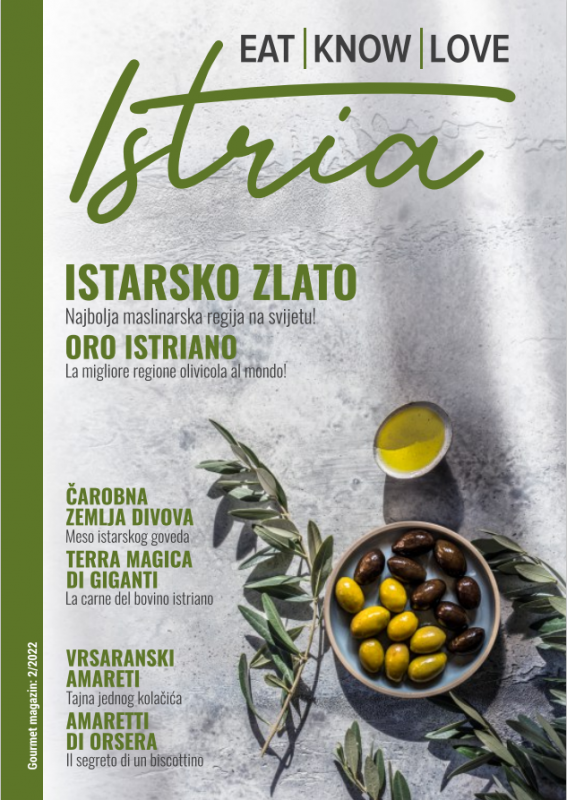 Photo gallery
12.04.2022

Although many call it a hidden gem, Istria has long been recognized around the world for its enticing natural beauty, rich cultural heritage and excellent gourmet offer that combines modern and traditional in a unique way, providing an exceptional experience to the visitors. Today, this green oasis of playful experiences is quite deservedly at the very top of the world's gourmet locations, and research shows that every third guest visits Istria because of the scents and flavours of its traditional and indigenous cuisine.
Stories about this magical land of giants and unforgettable gourmet pleasures are published in the new edition of gourmet magazine "Eat Know Love Istria" which continues to reveal numerous Istrian attractions and well-hidden secrets, told through customs related to the rich tradition woven into this area. A special treasure lies in the intangible customs that have been shaped throughout history and still live today as part of the charming everyday life of the local population. One of the best ways to explore local everyday life is through food.
Istrian cuisine originates from the sea, millennial olives and the heritage of vines, wild plants and medicinal herbs, domestic animals and plenty of fish, which, according to the old proverb, after the sea should swim in olive oil and wine. Istrian gold - extra virgin olive oil - is the basis of almost every dish in this area, a symbol of quality and true pleasure at the table, and in recent years has won the world's most prestigious awards.
Gourmet magazine, created with the cooperation of the Maistra Hospitality Group and the tourist boards of Rovinj, Vrsar, Bale, Kanfanar and Svetvinčenat and the Rovinj's Craftsmen Association, presents many traditional recipes that nurture Istrian cuisine and celebrate the past and tradition of this region. Famous Istrian prosciutto and aromatic cheeses, organic fruits and vegetables from the fertile Istrian soil known as crljenica, freshly caught fish from the crystal-clear waters of the Adriatic Sea, wines from sunny vineyards on the slopes of fairy tale hills are original elements of Istria that producers and caterers combine into a colourful and recognizable eno-gastronomic mosaic. It is a combination of the products of the Istrian soil and the hardworking hands of the locals who have been slowly but unstoppably climbing the ladder of success for decades.
We also reveal many interesting events that attract more and more visitors to Istria every year, and gather only the best of the best from the world and domestic gourmet scene. For the curious ones, the magazine also includes stories and legends of the Istrian region, as well as a small dictionary of the Istrian dialect so that they can fully indulge in this unique experience. As you travel through Istria, every road and turn will take you on a new gourmet adventure, related to the history and culture of this region.
The magazine is available at the link: Eat Love Know Istria EN - DE
Recommend it to your friends through these services.. ...